It's clear that insurance touches many aspects of people's lives.
The holiday season alone can present all kinds of insurance risks. There's pumpkin patch liability insurance to protect pick-your-own patches against any safety risks. Christmas tree lot insurance shields owners of Christmas tree farms from similar liability concerns, and homeowners insurance can cover the risk of a fire in case, for example, the lighting of a menorah goes wrong. And that's just to name a few.
However, Progressive Insurance is teaming up with Whole Foods Market this year to offer a new holiday protection: turkey insurance.
Although not an actual insurance product, as Whole Foods is not in the business of insurance, the Thanksgiving Turkey Protection Plan offered by Progressive and Whole Foods is promising a $35 Whole Foods Market gift card to the first 1,000 claimants as a result of any turkey cooking mishaps this year.
Claim submissions will open this week on Thanksgiving Day, November 26, and will remain open Friday, November 27. Submitting a claim requires a picture of the failed turkey, a brief explanation of what went wrong and a Whole Foods Market receipt from the original purchase.
If the claim is approved, Whole Foods Market will provide a $35 gift card for eligible customers to spend however they would like, limited to the first 1,000 claimants.
A spokesperson for Progressive tells Insurance Journal the concept for the Turkey Protection Plan was developed by Whole Foods Market and serves as the first time the two companies have partnered.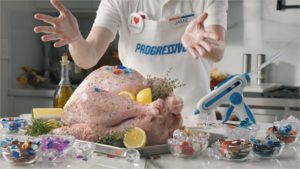 "What began as an initial Progressive 'insurance seal of approval' on the Turkey Protection Plan became a true partnership, and one that we're especially proud to be a part of this year as we show how Progressive insurance isn't just there when you need us for your cars and homes, but for life's moments that are just as – if not more – important," the spokesperson says. "For that, we're honored and happy to lend some 'insurance' for that experience, and offer some much-needed levity."
Indeed, Whole Foods says the Turkey Protection Plan comes at an important time as COVID-19 has led many families to shift their Thanksgiving plans, staying home to celebrate rather than traveling to visit relatives. This could leave some homeowners feeling nervous about their first foray into crafting a Thanksgiving feast.
"As we anticipate more smaller Thanksgiving gatherings and first-time cooks tackling turkey preparation this year, the Thanksgiving Turkey Protection Plan allows customers the freedom of culinary exploration, knowing all is not lost should their cooking go astray," says Theo Weening, vice president of Meat and Poultry at Whole Foods Market. "We want to help customers rise to the occasion and take on that turkey with confidence for less-stressed Thanksgiving meal preparation."
On a more serious note, Thanksgiving can be a busy time for insurers like Progressive, which insures not only vehicles but also provides home insurance through select companies. Data from the National Fire Protection Association (NFPA) show there are more than three times as many home cooking fires on Thanksgiving day as a typical day of the year, making it by far the leading day for U.S. home cooking fires. The NFPA's latest Home Cooking Fires report finds that on Thanksgiving Day in 2018, U.S. fire departments responded to an estimated 1,630 home cooking fires.
With this in mind, the NFPA offers recommendations for fire safety, such as not leaving food unattended while cooking, using timers to keep track of cooking times and keeping things that can catch fire such as oven mitts, wooden utensils, food wrappers and towels away from the cooking area. NFPA also discourages the use of turkey fryers, which it says can lead to burns, other injuries and property damage.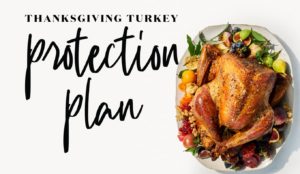 To cook a turkey safely, Weening – a third-generation butcher and the global meat buyer at Whole Foods Market – also lends his advice. He recommends placing an instant-read meat thermometer in the meatiest part of the leg away from the bone and waiting until it registers 165 degrees Fahrenheit to remove the turkey from the oven. Fresh turkeys should be stored just below freezing, which begins at 26 degrees Fahrenheit for turkey meat, according to the National Turkey Federation. Frozen turkeys should be kept in the freezer until ready to thaw, which can be done in the refrigerator or by submerging in cold water, Weening says.
While safety is important for seasoned Thanksgiving dinner chefs and newbies alike, Progressive says it wants to remind homeowners through its partnership with Whole Foods Market that despite any challenges the pandemic has brought, enjoying the holiday and having fun is important too.
"Experiences matter, this year more than ever before," the Progressive spokesperson says. "In the case of Thanksgiving, that might mean the experience of preparing a turkey and all the relatable, funny-because-it's-true moments that come with that, as many people navigate the role of holiday chef for the first time without the help of extended family."
Was this article valuable?
Here are more articles you may enjoy.