Another billion-dollar disaster was confirmed in October, bringing the total to a record 25 such disasters in the first 10 months — the largest number of disasters for any year since NOAA began tracking the events. These disasters included 19 severe storm events, two floods, one tropical cyclone, one winter storm, one wildfire and one drought/heat wave.
The total cost of the 2023 events exceeds $73.8 billion, according to NOAA's estimates.
The average October temperature this year across the contiguous U.S. was 56.1 degrees Fahrenheit, 2.0 degrees above the 20th-century average, ranking it the 18th-warmest October in NOAA's 129-year climate record.
Maine ranked second warmest on record for October, while Vermont and New Hampshire tied as third warmest.
Six other states — Connecticut, Massachusetts, New Jersey, New Mexico, New York and Rhode Island — each saw a top-10 warmest October on record, the report added.
A warm October coupled with drought conditions across the Lower Mississippi Valley dropped water levels to historic lows along parts of the Mississippi River last month, according to the latest monthly U.S. climate report released by the National Oceanic and Atmospheric Administration (NOAA).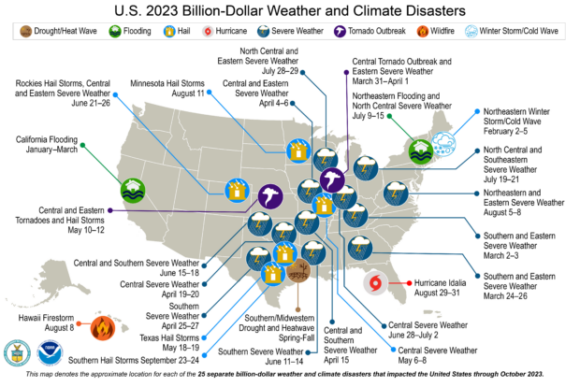 North Carolina had its 10th-driest October on record, and no state saw an October that ranked among their top-10 wettest on record.
NOAA's analysis found the average U.S. temperature for the year to date (YTD) was 56.9 degrees F, 1.9 degrees above the 20th-century average, ranking as the 11th-warmest such YTD in the climate record.
Florida, Louisiana, Mississippi and Texas each ranked warmest on record for the YTD, while Connecticut, Maine, Maryland, Massachusetts, New Hampshire, New Jersey, Rhode Island and Vermont each ranked second warmest for the January-October period.
The average precipitation across the Lower 48 was 2.14 inches — 0.05 of an inch below average — placing the month in the middle third of the historical October climate record.
The U.S. precipitation total for the YTD was 25.50 inches — 0.14 of an inch above average — ranking in the middle third of the January-October climate record, the report noted.
Wyoming and Massachusetts ranked fourth wettest on record for this YTD while Connecticut, Maine and Nevada each ranked fifth wettest. Meanwhile, Maryland logged its seventh-driest such YTD on record.
One new billion-dollar weather and climate disaster was confirmed in October after severe thunderstorms brought damaging winds and large hail to parts of the southern plains in September.
The U.S. has sustained 373 separate weather and climate disasters since 1980, where overall damages/costs reached or exceeded $1 billion (including Consumer Price Index adjustment to 2023). The total cost of these events exceeds $2.645 trillion.
Photo: (AP Photo/Rogelio V. Solis)
Topics USA Mississippi Massachusetts Connecticut Maine Aerospace
Was this article valuable?
Here are more articles you may enjoy.