Calling it "an historic moment" medical marijuana advocates praised the filing of what has been deemed comprehensive medical marijuana legislation in the Texas House.
Introducing the legislation at a press conference on March 17, Rep. Marisa Márquez said "it's time for the Texas legislature to have this important conversation and adopt access to medical marijuana into law."
Márquez, who sponsored House Bill 3785, said the bill is 40 pages long. "When we say comprehensive, we mean comprehensive. It looks at every aspect of medical marijuana."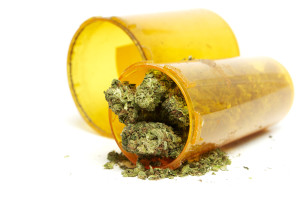 An El Paso Democrat who represents House District 77, Márquez said the bill includes limitations to "safeguard the community and minimize the misuse of medical marijuana. It also clearly defines the "serious and debilitating" medical conditions for which cannabis has been found to be an effective alternative treatment such as cancer, multiple sclerosis, Parkinson's disease, Lou Gehrig's disease, seizure disorders and PTSD.
"Texans deserve access to medical marijuana as a treatment option. It's time for us to allow Texans and their doctors to make the best decision regarding their medical treatment. As a state that leads the nation in innovative medical research, Texas needs to take a scientific and reasoned approach to the known benefits of medical marijuana," Márquez said.
Surveys show that 77 percent of Texans support medical marijuana reform, according to Caitlin Dunklee, with Texans for Medical Reform.
"This is not a risky issue. This is not an issue about Democrats or Republicans. This is an issue about bringing compassionate care to patients who need help today," Dunklee said.
She said "23 states and the District of Columbia have brought medical marijuana programs to their states and jurisdictions. It is time for Texans to become the 24th state."
Dunklee added that "what's important to know about the Texas plan is this is a bill drafted specifically for Texas, crafted after successful bills in other red states."
Another advocate, 31-yearold Barbara Humphries, who was diagnosed with stage 3 breast cancer on May 29, 2014, said she has had direct experience with the help medical marijuana provides after chemo therapy.
"I've spoken about this medical marijuana bill to my doctors and nurses and the response that I've gotten from them has been nothing but completely positive. Texas is ready for safe and legal access to whole plant medical marijuana and we should not be denied legal access when a doctor recommends it. Seriously ill patients such as myself should not be treated as criminals for choosing an alternative to addictive prescription drugs," she said.
Márquez recognized the difficulties inherent in attempting to bring the bill to passage. "The biggest part of our role" as sponsors and advocates is education, she said.
"This issue is not about the border," Márquez said, "It's about access to medical marijuana."
Rep. Joe Moody, a Democrat from District 78 in El Paso, said Rep. Márquez's bill and legislation he has filed addressing civil sanctions for "low grade possession" of marijuana are initiating an important "discussion in Texas that was nonexistent two years ago."
Though he considers Texas to be a leader on many issues, Moody said the state has been "clearly absent from the discussion related to marijuana enforcement and how we regulate that market. It's a national discussion that is ongoing and it's happening without us. As Texans I don't think we should allow that to happen."
Senator Jose Menendez of San Antonio filed the medical marijuana companion legislation, SB 1839, in the Senate, Márquez said.
Study: Opioid-Related Deaths Cut by 25% in Medical Marijuana States
Nevada Assembly Approves Medical Marijuana Dispensaries
Was this article valuable?
Here are more articles you may enjoy.