In early March, well before stay at home orders were enacted in states and communities across the country, Tony Caldwell recognized that COVID-19, the disease created by the new coronavirus, was going to have a huge impact on life in the United States.
Caldwell, CEO of Oklahoma City-based One Agents Alliance (OAA), a network of independent agents with 181 agency members operating in 200 locations in four states, immediately began working on a plan to take his company virtual and started preparing his 23 employees, for the change that was about to come.
"I looked at the numbers on the first of March and said you know what? We're going to get clobbered, it's going to be about three weeks," said Caldwell. "I told all my leadership team and then all our employees and my family to go buy four weeks' worth of food. There's going to be a run on the grocery stores at some point, so get it done before that happens. Then we put together a pretty detailed plan for moving our business operations to remote."
By the time the company went remote in mid-March they were well situated, he said.
One of the first tasks was to assess how prepared the firm's employees were in terms of technology. They took an inventory of who had company-issued laptops, who didn't, and who had computers at home.
"We actually found an employee that didn't have a computer at home, that was really surprising, but we provided her a computer," Caldwell said.
Once the issue of computer access for all was settled, they turned to cyber security, making sure that the appropriate security software was installed and that safety protocol were established. And, recognizing that daily communication with and between the entire team, as well as their agency members and carrier partners, was going to be critical, all employees were trained on how to use Zoom and Microsoft Teams.
"Those were some IT sort of steps," Caldwell said.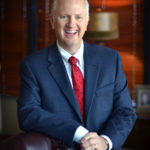 They then began a three-times a day process of sanitizing their offices and talked about the personal responsibility each employee had to the team in terms of staying well and being careful with their movement and activities.
Training focused not only on how the work would be carried out at home but also on helping employees feel confident and informed about what the company was doing and why.
A plan also was developed for communicating with OAA's agency members and their insurance company partners about what they were doing and how their remote operation was going to work.
The OAA team went virtual on March 16 and Caldwell said the planning and preparation has paid off. His team has tackled the change with enthusiasm, and he's found "that our business operations are if anything more efficient."
On the first morning after the company went virtual, Caldwell sent an email to the employees addressing the mindset that would be needed going forward because of the uncertainty about the pandemic and its impact, as well as how long it would be necessary to work remotely. He assured his employees that even though they were at home, they were still doing professional work and should approach each day as if they were in the office – wear professional clothing and be ready to work all day.
"The degree to which we can normalize our work, I felt like would do a lot towards keeping people's moral up. And I think we have seen that that's true," he said.
A couple of questions that arose early in the transition were: How was the mail coming into the office going to be handled? What to do when people needed something from the office in order to do their work?
To handle the mail, an employee was selected to go to the office every day for several hours to process the mail. "She's the only person allowed in our building and she has been trained, as everybody else has, on how to disinfect her way into the building and disinfect her way out of the building."
In addition, a protocol was established for those times when someone else needed to go to the office. "If for any reason you need to go to the office because you need something, you have to notify the entire company that you're going, when you're going to be there, how long you're going to be there, and when you leave so that we don't have more than one person in our building at a time," Caldwell said. And they, too, have to disinfect their way in and out of the building.
Aware that some employees would have children at home and that care-giving responsibilities might keep them from working during regular office hours, employees were assured that the company understood that flexibility in working hours would be needed.
Guidance for Going Remote
Under federal guidelines, insurance firms are considered essential businesses, so they are generally advised but not required to close their offices. Aware that some agencies including many of OAA's agency members had not made the decision to go virtual, OAA created a COVID-19 resources page that details the steps the OAA went through to prepare the company to go remote and provides guidelines for others going through the process to follow if they choose. It includes "the things that we felt like everybody needs to think about as they prepare to go virtual," Caldwell said.
As of March 24, the day Gov. Kevin Stitt issued a stay at home order for people over 65 or those with underlying health problems and limiting gatherings 10 or fewer people, there was still a wide range of attitudes among OAA member agencies as to whether they would shut their offices and send everyone home to work, Caldwell said. Some went virtual around the same time as OAA, but some were still operating out of their offices.
Whatever their decisions, Caldwell said his team was keeping in touch with all the member agencies, assessing where those agencies were in the transitional process and letting them know that help is available should they need it.
Topics Agencies Leadership Oklahoma
Was this article valuable?
Here are more articles you may enjoy.