Florida's insurance regulator has established 2019 rates for Citizens Property Insurance Corp. after the insurer resubmitted its rate filing as part of a requirement of the new assignment of benefits law that adjustments be made to proposed policyholder rates this year.
The Florida Office of Insurance Regulation (OIR) released the newly established rates in separate orders for commercial lines and personal lines, which show significant reductions from the previous filed increases by Citizens as a result of the AOB reforms passed during the 2019 Florida Legislative Session.
OIR said the new rates for each line of business "highlight the impact of AOB reform on requested rates."
The overall estimated statewide average rate changes established by OIR for each line of business individually include: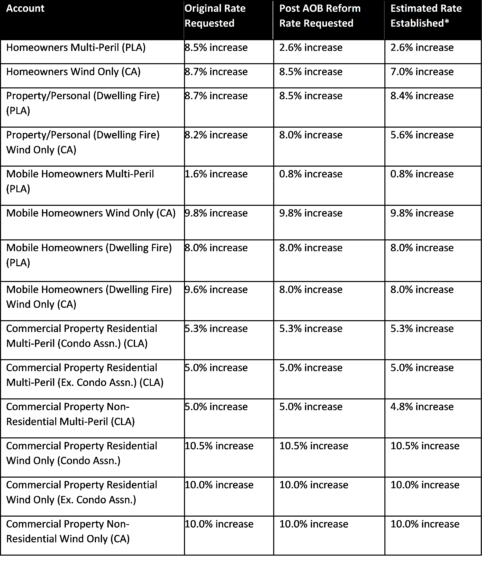 The Citizens Board in June approved revised 2019 rates to reflect the projected impact of enacted AOB reforms that took effect July 1. OIR said it reviewed these filings and considered the comments and testimony received from policyholders and other interested parties, both by email and during a public rate hearing held on March 14, 2019, in Miami.
Prior to the enacting of the new AOB reform law, Citizens filed for rate increases for 97 percent of its homeowners policyholders for this year to offset litigation costs. The overall requested rate increase requested from OIR in December was 8.2%. However, the new law stipulated that the insurer may not implement any rate changes this year unless the 2019 rate filing reflected projected rate savings from the new law.
The effective date of the proposed rate changes for all three accounts (Coastal, Commercial Lines, and Personal Lines) is Dec. 1, 2019.
"We are pleased to see that AOB reforms passed by the legislature are already having a positive effect on rates. We will be closely monitoring new rate filings to ensure that costs savings are passed along to Florida consumers," Florida Insurance Commissioner David Altmaier said.
The filings can be accessed via the "IRFS Forms & Rate Filing Search" system using the following search criteria: file log numbers (provided below) or by entering Citizens as the "company name" (and scrolling down to the bottom of the results page for the most recent filing information).
Topics Legislation Florida
Was this article valuable?
Here are more articles you may enjoy.