Just as COVID-19 infections nationwide appear to be on the decline, employers and workers' compensation insurers need to be prepared for a sobering reality: Studies suggest that 10% to 30% of those who had only mild cases early on will suffer long-term complications for weeks or months.
That's according to a report by Dr. Michael Choo, chief medical officer for Paradigm, a care-management organization. His report was posted recently by the National Council on Compensation Insurance.
The effects of this long-haul COVID are quite varied but may be difficult to discern from other conditions that are pre-existing or were not caused by a work-related illness or injury.
"It is imperative that treating clinicians provide a comprehensive and holistic evaluation of the patient's past and present health-related factors to ensure identification of other potential causes or contributors to persistent symptoms following acute COVID-19 illness," Choo wrote.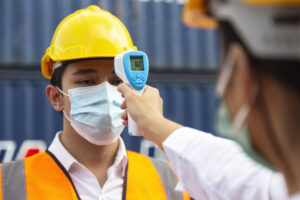 Long COVID, as it is sometimes called, can significantly affect workers' performance. It can lead to severe fatigue and shortness of breath and can affect cognitive function, creating what's been dubbed "brain fog," the report noted.
"Potentially millions of people could become functionally impaired for an extended period of time subsequent to acute COVID-19 illness," Choo explained. "This is both sobering and alarming."
The National Institutes of Health have termed the long-COVID symptoms "PASC," for post-acute sequelae of severe acute respiratory syndrome – coronavirus. The reality is that prolonged PASC can significantly delay victims' ability to return to work at their prior level of function and can impair their quality of life, the report said.
Not much data is available on the number of comp claims arising from long COVID, but the NCCI said it will address that in another report due out next year.
Florida is one of the few states that publishes information on COVID-related comp claims. The Division of Workers' Compensation's monthly reports do not show how many claims are related to long-haul symptoms, but the overall number of COVID claims continues to fluctuate.
Florida claims peaked in July 2020 with 8,403, as COVID infections statewide surged. Comp claims peaked again in August of this year, with 6,706, the latest DWC report shows.
Through September 2021, Florida workers had filed more than 57,888 COVID claims. Insurers and self-insurers have paid out about $136 million on COVID claims, or about $2,357 per claim. The COVID workers' compensation claims make up about 6.6% of all indemnity claims, the division reported.
NCCI is not the first organization to warn about the potential for COVID-19 to cause long-term health impacts. Dr. Claire Pomeroy, an infectious disease expert and president of the Lasker Foundation, wrote in a July article published by Scientific American that the nation should be prepared for a "tsunami of disability" caused by long-COVID.
Also in July, the Department of Health and Human Services issued guidance that informed employers that people struggling with long-haul COVID are protected by the Americans with Disabilities Act, meaning employers may have to provide reasonable accommodations to allow them to continue working.
Was this article valuable?
Here are more articles you may enjoy.