Just as some insurers have tightened requirements for underwriting high-rise condominiums in the wake of the Champlain Towers collapse in Miami Beach last year, now mortgage banks are starkly revising lending rules.
The moves could make sales of some condo units difficult or impossible, especially if banks determine that major repairs are needed. More required inspections could ultimately make it even harder to place insurance coverage for creaky condos, according to news and insurance industry reports.
Freddie Mac and Fannie Mae, the two federally chartered corporations that buy loans from mortgage lenders and help determine lenders' willingness to issue mortgages, are now requiring banks to evaluate the condition of buildings before approving a loan, the Miami Herald reported. The corporations said they will no longer back condo mortgages in buildings facing critical repairs or material deficiencies, such as water intrusions or even mold, or that have deferred maintenance that has resulted in "advanced deterioration."
Routine maintenance or repairs likely won't be an issue under the new lending rules, the Herald noted. But buildings that have not set aside sufficient funds to pay for needed critical work will be ineligible for loans in most cases.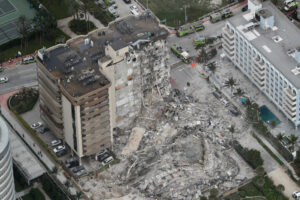 Condominium attorneys, real estate brokers, bankers and association leaders say the rules will make it significantly harder for buyers to obtain financing to buy units in certain buildings, or for owners in those condos to refinance, until their associations can show that buildings are sound or repairs are completed and approved.
"If there is in fact any outstanding work to be done, the project is ineligible," said Eric Intihar, mortgage planner with Fairway Independent Mortgage Corporation in Boca Raton. "Essentially, it's kryptonite."
The Fannie Mae rules took effect Jan. 1. Freddie Mac officials said that under temporary rules that will likely become permanent later this year, all mortgages that close after Feb. 28 must comply. Fannie Mae, the Federal National Mortgage Association, buys most of its mortgages from larger, commercial banks. Freddie Mac, Federal Home Loan Mortgage Corp., buys them from smaller banks.
Fannie Mae is also requiring that condo boards set aside 10% of operating costs every month in a special reserve to pay for needed future repairs before it will back mortgages in a condo building. And bankers will have to cull through six months of condo board minutes to see if any discussions of maintenance or repair issues have come up, and will have to request copies of engineering inspections conducted in the previous five years.
To qualify for loans, condo associations will have to answer detailed questionnaires about inspections, repairs, structural and mechanical issues and fees that have been assessed to pay for repairs.
Older condo buildings will be the ones most affected by the new rules, experts said. The Miami area is home to one of the largest concentrations of high-rise condos in the country, many of them more than 30 years old. The Champlain Towers collapse in June killed 98 people and set off a flurry of lawsuits, investigations, recommendations, new concerns by insurers and lenders, and efforts to pass new legislation designed to prevent deferred maintenance.
Florida Senate Bill 1702 would require more frequent and more extensive inspections of condos over three stories tall, statewide, not just in the Miami areas as is now required. The bill has passed two Senate committees and is now on the agenda for the Rules Committee meeting Wednesday morning.
The potential changes have raised questions for insurers and insurance agents.
"As you can imagine, those state-mandated inspections will likely become part of a company's underwriting process," Kyle Ulrich, president of the Florida Association of Insurance Agents, wrote in a recent memo to agents. "If carriers know additional information is available on a risk, why wouldn't they ask for it?"
Florida law now requires condo associations to carry adequate property insurance. Even though SB 1702 and other legislative proposals would not directly change statutory condo insurance requirements, they will likely have unintended consequences on the availability and pricing of insurance for many condo properties, Ulrich noted.
If condos are not maintained, the associations may not be able to obtain adequate insurance. If an agent cannot procure adequate coverage, the Florida Department of Business and Professional Regulation (DBPR) would not take action against an insurance agent, Ulrich said. But the agency could penalize the condo association if it is in violation of the statute.
The FAIA is encouraging agents to have their client condo associations ask DBPR for a declaratory statement on how regulators would handle the situation.
Was this article valuable?
Here are more articles you may enjoy.