Washington Insurance Commissioner Mike Kreidler, the nation's longest serving insurance commissioner, is recovering after successful heart surgery performed Monday at Providence St. Peter Hospital in Olympia.
The insurance commissioner's office made known his surgery and ensuing recovery on Tuesday.
Kreidler's doctors had been monitoring his heart status over the past several months following the discovery of a heart murmur at a regular doctor's appointment, according to Sandi Peck, Washington's deputy insurance commissioner for public affairs.
Ultimately Kreidler, age 69, was diagnosed as a defective heart valve, and in the last few weeks it also was discovered he needed heart bypass surgery, Peck said.
During the four-hour surgery doctors performed the bypass and valve-replacement, and Kreidler is awake and expected to make a full recovery, she said.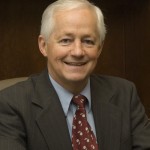 "The commissioner was upbeat and confident about the operation," said Peck said. "He called our office this morning, and he sounds as if he's well on the road to recovery. As a staunch advocate for health care reform, he's definitely looking forward to getting back to work."
Peck expects Kreidler to be back doing light work days in about two weeks. She said he has no other known health issues, he's never smoked, and he runs on a treadmill and works out at the gym regularly.
"We would work around his schedule so he could hit the gym in the morning," Peck said.
Kreidler was re-elected to a fourth four-year term in November 2012, making him currently the longest serving insurance commissioner in the U.S. Kreidler is a former member of Congress, state lawmaker and optometrist.
Washington has a history of long-serving commissioners. Kreidler is only the state's eighth insurance commissioner since the office was created in 1907. Republican H.O. Fishback is Washington's longest serving commissioner, holding office from 1913 to 1933.
In his reelection bid, Kreidler won nearly six in 10 votes, while insurance broker John Adams, his Republican challenger, garnered a little more than 40 percent of the votes.
Following his reelection Kreidler said that over the next four years Washington's insurance community and its consumers can expect his top priorities to include implementing the Affordable Care Act, tackling climate change and doing battle with not-for-profit health insurers that he says have built up excessive surpluses.
"He fully expects to carry out the term," Peck said. "I think our greatest challenge is going to be keeping him out of the office before he's cleared to come back. He already asked his wife this morning to bring his laptop."
During Kreidler's recovery, Acting Chief Deputy Deb McCurley will be handling the commissioner's duties. McCurley has been the deputy insurance commissioner for operations since 2006.
Topics Washington
Was this article valuable?
Here are more articles you may enjoy.