Three previously unrelated Southern California insurance agencies have formed a cluster to share large clients, pool resources, ensure perpetuation, maintain independence – and to grow their cluster.
Lloyd S. Berkett Insurance, L/B/W Insurance and Vinsa Insurance Associates have formed a cluster: Western Resource Network Insurance Solutions LLC.
WRN will build on the foundation and success of being an independent agency, while establishing the presence and resources of a national brand, according to Gail Stonehouse, Chief Operating Officer of Lloyd S. Berkett Insurance Agency Inc.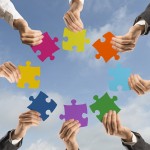 Stonehouse will manage the cluster.
"We have formed a legal LLC, we have noncompetes in place," she said. "We spent a year-and-a-half formulating, strategizing and planning before we signed documents."
All three firms are second-generation, family-owned independent agencies that wished to ensure perpetuation and not be bought up by a large agency, Stonehouse said.
"Today, agents have to sell, they're stuck," she said. "We don't want to be in that situation."
The three members of the cluster met with their tier 1 markets, the five top markets they do business with, and consolidated the contracts, and the firms are now looking at joint marketing efforts, as well as pooling staff, technical resources and sales management, according to Stonehouse.
The firms were unrelated before forming the cluster, though not unfamiliar with one another.
Stonehouse had worked with L/B/W Insurance on a project for a networking group, and L/B/W had previously worked with Vinsa Insurance.
"We realized we had a lot of similarities in our businesses," she said. "After a conversation, we realized there was a lot of synergy."
Each firm has been in business 50 years or longer, and geographically they cover an area with a large number of businesses.
Lloyd S. Berkett is based in Los Angeles, L/B/W Insurance is based in Valencia and Vinsa Insurance is out of Lancaster.
"We formed sort of a triangle," Stonehouse said. "We all write a lot of businesses surrounding our territories."
According to her, the cluster now has over $80 million in written premium, putting it in the top 20 to 25 percent of agencies in Southern California. The three firms total more than 75 employees.
The firms are generalists, but each has its particular specialties. Lloyd S. Berkett's specialties are commercial real estate and religious institutions, L/B/W Insurance specializes in commercial real estate and entertainment and Vinsa Insurance specializes in school districts and public entities.
Stonehouse said the plan is to grow membership in the WRN cluster.
"We will be open to future members," she said, adding they will be looking for firms with a "similar culture and values."