A skier injured when an allegedly drunken snowboarder collided with her has filed a $900,000 lawsuit against the snowboarder and Skibowl in Oregon.
The suit from Maria Magdalena Stanila alleges the Mount Hood ski resort has a permissive attitude toward alcohol, creating an environment in which sober and intoxicated people ski and snowboard next to each other.
The lawsuit filed in Multnomah County states Stanila lost the use of a kidney after the snowboarder slammed into her two years ago.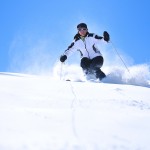 Skibowl attorney Brad Stanford told The Oregonian that the suit has no merit and the resort will "vigorously defend" itself.
He says Skibowl employees won't let visibly intoxicated people on the lifts. If someone is seen skiing or snowboarding drunk, employees will remove that person from the premises.
Copyright 2020 Associated Press. All rights reserved. This material may not be published, broadcast, rewritten or redistributed.
Was this article valuable?
Here are more articles you may enjoy.