A judge has ruled that the Anchorage School District was negligent and liable for $4.5 million in damages in a lawsuit filed by the family of a student who was severely injured after falling at his school.
Superior Court Judge Sen Tan in late February also awarded an additional $180,000 to the plaintiffs for pain and suffering stemming from the 2009 fall of the 6-year-old kindergartner at Rogers Park Elementary School, the Anchorage Daily News reported. The name of the boy, identified only as N.M., was not released by the newspaper at the family's request.
The lawsuit maintained that the district was negligent in allowing the stumps to remain on a path heavily used by small children.
Tan's decision stemmed from a 6-week nonjury trial that began last July. It is the largest civil judgment against the school district.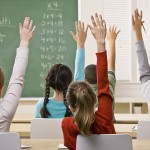 The boy's injury was caused when he tripped and fell into what had been a clump of pine shrubs. A stick jabbed the frontal lobe of the boy's brain. He was medicated into a coma at a hospital.
Since the accident, the child has suffered from various complications, according to reports compiled by medical experts. The damage to the boy's brain affected the part that regulates hunger and appetite, the circadian rhythm of sleep, body temperature regulation and the onset of puberty.
The boy felt constantly hungry, his weight almost doubling in the six months after the accident.
"He would get up in the middle of the night and eat anything," a neurologist's report said.
The boy also developed narcolepsy and memory problems. He struggled with sleep apnea, a side effect of his obesity.
School district attorney Howard Trickey declined to comment on specifics of the boy's case because a final judgment is pending and could be appealed.
"We recognize in defending the case that he suffered a very severe injury and that he would have lifelong medical needs," Trickey said. The judgment will be finalized within the next month, he said.
The plaintiff's attorney, Jim Brennan, said he wouldn't comment because of the possibility of an appeal.
District officials say the district does everything it can to keep children safe. But sometimes terrible things occur anyway.
"Occasionally, these freak sort of accidents will happen," said Mary Susan Lee, the district's risk manager. "We try our best to prevent things from happening. But there's always that human factor that the ASD cannot always control."
At least 10 other lawsuits against the district are currently winding their way through the legal system, including one involving a Service High School student who sustained a head injury after slamming into a concrete pillar while catching a pass thrown by a coach during a football practice in the school cafeteria.
Copyright 2020 Associated Press. All rights reserved. This material may not be published, broadcast, rewritten or redistributed.
Was this article valuable?
Here are more articles you may enjoy.