Hail, wind and flooding in May caused an estimated $109.3 million in insured losses resulting from 28,442 auto and homeowners insurance claims filed, an insurance group reported on Monday.
The damage estimates include 18,538 car insurance claims adding up to more than $57 million and 9,904 property insurance claims at nearly $52 million, according to the Rocky Mountain Insurance Information Association.
The insured losses include a week's worth of severe weather starting May 20 with hail pounding the Eastern Plains and then with winds and reported tornadoes over Aurora accompanied by golf ball-sized hail and heavy rains from Northern Colorado to the Denver Metro area and south through Colorado Springs.
Originally tornado watchers reported five touchdowns in the state that week but the National Weather Service didn't deem any to be official tornado touchdowns.
"Their definitely was rotation and funnel clouds," said Carole Walker, executive director of RMIIA.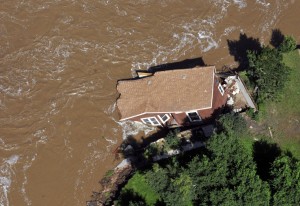 The tornado sightings came on the sixth anniversary of the Windsor Tornado on May 22, which caused a reported $209.3 million in inflation-adjusted insured losses. Damage estimates rose a great deal following reports a week after the tornado struck of more than 20,000 claims made for more than $147 million in insured losses.
There was widely reported wind damage and some flood damage to vehicles, but the large number of claims were driven by hail, according to Walker.
"The lion's share of the damage really was the damaging hail," Walker said.
Damage from all three forces – hail, wind, flooding – was widespread from Eastern Colorado to the south, and there were several days of severe storms
"There was a lot of widespread minor damage, and then there was some more severe damage," Walker said.
While such storm damages aren't completely out of the norm for Colorado, the peak season when the state starts seeing large insured losses from hail isn't typically until June or July.
Several parts of the state remain under a severe flood threat.
In Northern Colorado, particularly Greeley, a flood alert has been issued in some of the same counties that were hard hit by last year's historic flooding, which catastrophe modeler EQECAT estimated to have caused more than $200 million in damages.
Myriad reports from local governments and experts show river levels far above normal, and those levels may rise as the snow melts following an abundant snow season in Colorado's Rockies.
"Unfortunately, with snow melt and heavy rains and damage from last year's fire, there is a real threat for flooding this year," Walker said.
Much of the rains that came to Colorado at the end of last month have subsided, but as the temperatures rise that sends more melt into the rivers, said National Weather Service meteorologist Kyle Fredin.
"With the warmer temperatures today through Wednesday we should see river flows maintain high action alert levels," Fredin said.
The alert should stay in effect through the weekend, and subside next week with cooler temperatures expected to yield less melt, however, stream flows are expected to remain high through mid-June, he said.
"To have our first storm of the season get off with a bang is a little disheartening," Walker said.