A bill to more thoroughly regulate insurance requirements for ridesharing companies is successfully wending its way through California Legislature as insurance associations and representatives for companies like Uber and Lyft try and hash out an uncertain middle ground.
The Senate Energy, Utilities and Communications Committee passed Assembly Bill 2293 on a 7-0 vote on Tuesday. The bill, being carried by Assemblywoman Susan Bonilla, D-Concord, is backed by several insurance associations.
AB 2293 has already been approved by the California State Assembly on a 71-0 vote. It addresses a gap in insurance coverage between when a ridesharing provider's personal auto insurance is in effect and when a transportation network company's commercial insurance kicks in.
The Property Casualty Insurers Association of America, the Personal Insurance Federation of California, the American Insurance Association, the National Association of Mutual Insurance Companies and a few other associations have argued that anytime a ridesharing provider has open a smartphone app and is ready to accept rides that a TNC's commercial coverage should be in play.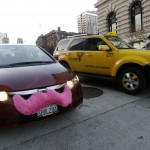 TNC operators have agreed in California to provide $1 million in commercial coverage for whenever a ridesharing driver has a ride. The TNCs have offered various solutions to the gap, but haven't agreed to provide commercial coverage during the period insurers have pushed for.
The California Public Utilities Commission recently proposed to have its existing $1 million coverage requirement extended to all three periods of TNC service – when a smartphone app is on and when a driver is looking for a ride, when there's a match and a driver is on the way to pick up a ride and when a driver has a ride. CPUC also is encouraging insurers to speed up the development of TNC insurance products.
California Insurance Commissioner Dave Jones has backed the CPUC recommendation, calling for the insurance burden to be put on TNCs.
TNCs have argued that requiring $1 million coverage for the period when drivers have their app on but no match will kill their business model, as well as scare off insurance companies currently developing TNC products.
AB 2293 would:
Require TNCs to disclose to drivers upfront that their personal insurance may not apply when engaging in commercial TNC activities.
Define that TNC activities begins once the app is turned on and the TNC services end when the app is turned off.
Clarify that TNC insurance is primary coverage.
Require TNC's liability insurance to defend and indemnify their drivers when they have a claim or accident.
Uber and Lyft proposed amendments including lowering the amount of coverage during the period when a driver has the app on but no match has been accepted – 50/100/30 has been proposed – and require that TNC insurance have the duty to defend and indemnify from app-on to app-off.
Spokespersons for Sidecar were not immediately available for comment.
Lyft spokesperson Paige Thelen provided the following company on behalf of the company:
"Lyft has set the highest standard in safety, as demonstrated by our $1,000,000 commercial liability coverage that is more than three times the $300,000 requirement for Los Angeles taxis. Today's hearing demonstrated that there is no clear consensus about how to best determine appropriate levels of insurance for ridesharing, and we will continue working with legislators to ensure that consumers, drivers and passengers have the ability to access safe rides from the Lyft community."
Uber also had a statement:
"We appreciate Senator Padilla's and the Committee's leadership today; They have clearly listened to California consumers and entrepreneurs and agreed to amendments to AB 2293(Bonilla) that reflect the unique nature of ridesharing while affirming our shared commitment to safety. This is a positive step in the right direction and we look forward to continuing to work with the Senate."
Beside its primary objective of increasing regulation on TNC's insurance coverage, AB 2293 encourages the development of more insurance products for TNCs. An amendment was suggested in which the proponents off the bill consider fast tracking those products, and its author agreed to that.
Otherwise the primary sticking point has been over the gap, and the chair of the committee directed insurers and TNCs to continue looking for a middle ground.
"The chair wants us to continue negotiating," said Nicole Mahrt Ganley.
Also in the negotiations are trial lawyers, now strange bedfellows with insurers in their battle for greater insurance coverage.
"We both think there should be adequate coverage appropriate to the activity," Ganley said.
When asked just what middle ground can be found in the battle over this insurance gap isn't clear, Ganley couldn't any possibilities.
"I don't have an answer to that question," Ganley said.
AB 2293 will next be heard by in the Senate Insurance Committee on June 25.
Was this article valuable?
Here are more articles you may enjoy.