Colorado lawmakers started work this week on one of the most anticipated issues of the legislative session: liability for homebuilders.
But whether the bills are a way to spark the construction of more affordable housing, or a handout to developers, has brought out sharp divisions among lawmakers and powerful lobbying interests.
A Republican Senate committee adopted a bill Monday to limit homebuilders' liability from unhappy homebuyers. The bill would reduce the amount of time a homeowner has to sue the builder for cracks, shifts or other flaws in a new home. The bill would give homeowners six years, down from eight.
"That's an extraordinarily long period of time, given the hardness of Colorado winters," said Jeff Ruebel, a lawyer who defends builders in defect cases.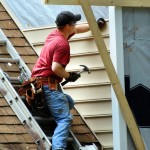 The bill originally applied to multifamily buildings but was amended so the change would apply only to single-family homes.
Another builder liability bill faces its first hearing Wednesday.
That bill would require homeowners associations to use mediation before filing a lawsuit. It also requires suing HOAs to obtain consent from a majority of owners.
Some believe Colorado's construction liability law depresses home construction and exacerbates a shortage of affordable housing.
"It's costing builders more to build a product, which then costs more to the consumer," said Sen. Ray Scott, R-Grand Junction and sponsor of the time-limit bill that passed Monday.
But the liability bills are unlikely to make it to the governor's desk. Leaders in the Democratic House have made clear they consider the measures a boost to developers, not homeowners.
One of the Democrats who voted against Scott's bill, Sen. Matt Jones, of Louisville, said the affordable housing problem wouldn't be helped by making it harder to sue builders for defective housing.
"People blame this for a very bad affordable housing problem," Jones said after the vote. "The little guy's going to get hurt, in my opinion – the schmoes like me who don't want to go to court."
Copyright 2020 Associated Press. All rights reserved. This material may not be published, broadcast, rewritten or redistributed.
Was this article valuable?
Here are more articles you may enjoy.