Passions ran high this week over a bill that would create Nevada regulations specific to ridesharing companies such as Uber and Lyft, a prospect that cab and limo services criticize as a double standard that would put customers at risk and undermine the state's tax base.
Cab drivers carried protest signs outside the legislative building in Carson City on Monday while Uber supporters wore matching black T-shirts and batted down accusations that they had been paid to attend the hearing.
The measures, SB439 and SB440, would create a regulatory framework for so-called transportation network companies that allow people to hail a ride in someone's personal car using a smartphone app and would create a corresponding class of insurance.
The bills come after Uber's bumpy debut into the highly regulated Nevada transportation market in the fall, which led to a heated court battle and ended with a restraining order from a judge.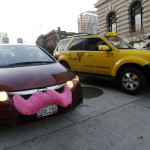 "My goal is to find a home for ride-sharing," Steve Thompson, a general manager of Uber in Phoenix, told members of the Senate Commerce and Labor Committee. He depicted his company as an economic engine that puts veterans back to work and prevents young people from driving drunk.
SB439 would set up a special permit and fee for ride-hailing companies, establish requirements for driver background checks and vehicle inspections and create rules about passenger data privacy.
The companion bill, SB440, creates a framework for insurance policies that cover ride-hailing services. Insurers say they want to make sure drivers have a higher level of commercial coverage whenever they're available for fares – not just when they have a customer in the car.
San Francisco-based Uber briefly operated in Nevada last fall before a state judge ordered it to stop, saying the company refused to follow regulations governing taxicab companies.
Uber contends it's fundamentally different from cab companies and needs special regulations, like ones passed last year in Colorado. The company said it has gathered more than 40,000 signatures in an online petition from people who want to bring the service back to Nevada.
Taxi and limo companies, which are major campaign donors in the state, see companies such as Uber and Lyft as unfair competitors that could operate under existing regulations but choose not to. They hired two former Nevada governors to make their case, including Democrat Richard Bryan and Republican Robert List.
Bill opponents showed somber TV news clips about a 6-year-old girl who was hit and killed by an Uber car in San Francisco last year, arguing that Uber tries to shirk liability and is as unsafe as hitchhiking. They painted cab companies as upstanding corporate citizens and philanthropists that contributed to projects like Las Vegas' Smith Center for the Performing Arts.
List cited an analysis from financial advisory firm Hobbs, Ong & Associates that predicted ride-hailing companies could reduce the Nevada taxicab market by at least 30 percent, resulting in about 1,800 lost jobs and $208 million in negative economic impact. Those estimates are based on taxi industry officials' observations of ride-hailing's impact in other markets.
Hobbs and List acknowledged some of the impact would be offset by gains in jobs with ride-hailing companies, but said the number was difficult to quantify and argued for taxi jobs that provide benefits.
"We should place employment in real, full-time jobs as the priority," List said. "I see a phantom company operating in the ionosphere as opposed to the brick and mortar companies" with roots in Nevada.
Uber representatives argued that they allow flexible employment for people who want to work part time, and they defended themselves against safety concerns by saying their background checks are so stringent that they weed out about 10 percent of taxi drivers who apply in some markets.
They also said their pricing is more transparent for riders and the service is more responsive than that of traditional cabs, which tend to congregate in tourist corridors and avoid outlying neighborhoods.
"The Uber platform means more economic opportunity for drivers, greater choice for riders, and safer streets for the cities we call home," the company said in a statement.
Copyright 2021 Associated Press. All rights reserved. This material may not be published, broadcast, rewritten or redistributed.
Was this article valuable?
Here are more articles you may enjoy.