Already considering itself a socially and environmentally minded business, Burnham Benefits Insurance Services took the next logical step and went for an official designation that would help alert others to their mindset.
That was the motivation Steve Vilas, Burnham's vice president of finance and operations, cited for applying for Benefit Corporation status.
Burnham is now one of only roughly a dozen insurance industry firms that can be called a B Corp, enabling them to be counted among recognized names like Patagonia, Ben and Jerry's, Warby Parker and Esty Inc.
The Irvine, Calif.-based firm joins agencies like insurance brokerage Griswold & Griswold, one of the first agencies to become a B Corp two years ago, NRG Insurance, Impact Insurance and Main Street Benefits.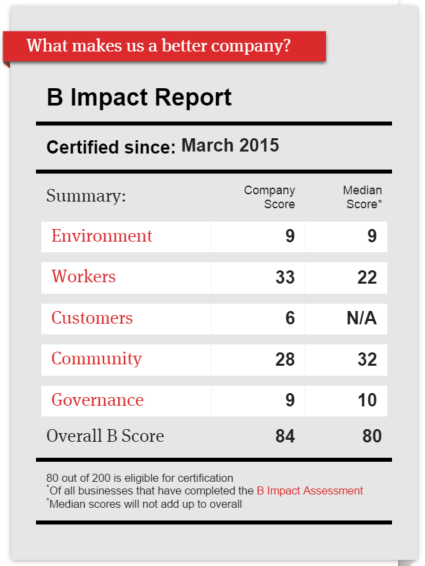 B Corps are certified by a nonprofit called B Lab to meet criteria of social and environmental performance, accountability and transparency. As interest in "being green," social investing and philanthropy have grown over the last few years, so has the number of B Corps.
In 2008, one year after the inception of B Corps, 125 companies had earned the certification. Since that time: 212 B Corps by 2009; 370 by 2010; more than 500 by 2011. Two years ago there were nearly 800 B Corps, and today there are 1,298 B Corps in 41 countries across 121 industries, according to B Lab.
B Lab spokeswoman Katie Kerr credited growing concerns over climate change in the last few years as being among the reasons for increased interest in being a B Corp.
"It really just helps feed the energy behind the movement and make it more well known," Kerr said of the public interest and debate over climate change.
Following a surge in interest from U.S. companies, there lately has been more interest from larger and more mainstream businesses, as well as more interest internationally, Kerr said.
To get certified as a B Corp companies must reach out to B Lab and fill out a detailed survey. B Lab evaluates and certifies applicants based on company governance, worker and other stakeholder interest, community engagement and impact, environmental resource and energy consumption, and other benchmarks like accountability, transparency and diversity.
B Lab allows companies to self-report activities that they believe will qualify them as a B Corp, then the organization verifies a certain percentage of that information through requested documentation, such as asking for written human resources policies, or written proof of socially conscious policies, like providing employees paid time off to volunteer in the community or donations made to community organizations.
Firms are required to meet a minimum of 80 points out of 200 on a B Corp impact assessment. They are required to change their bylaws to ensure their mission of being socially and environmentally friendly survives past the existing leadership, they must sign a term sheet and then pay an annual fee of between $500 to $50,000 based on sales.
B Corp laws have been enacted in 31 states and have been introduced in another nine states, according to B Lab. The laws recognize new legal structures that give company directors legal cover to consider social and environmental goals instead of just financial returns.
More than 30,000 firms have taken the surveys in their efforts to become B Corps, according to Kerr. She said those that don't pass muster get valuable feedback to help them make improvements in the process of becoming more sustainable, charitable or worker friendly.
According to Vilas, for Burnham to attain B Corp status there wasn't much that needed to be done.
"They are things that are part of our culture," he said of the requirements. "There weren't really that many additional things to do. We were living it."
Burnham was already working to become more digital and progressing toward a paperless environment, the firm already enabled some employees to telecommute and it offered things like flex time.
However, none of those polices was unofficial, so the firm made them official, Vilas said.
Burnham received an overall score of 84, and it was graded highest on its score for how it treats workers. The firm received a score of 33, which was well above the median score of 22. According to the B Lab report on Burnham, which is public, it scored highest under the "Workers" subsection of "Compensation, Benefits and Training."
Burnham also scored high for "Community," a section that evaluates a company's supplier relations, diversity, involvement in the local community and charitable activities.
Vilas said believes the B Corp status will boost the firm's status as a good place to work and a good member of the community, and in particular with clients that are interested in environmental or social causes.
"It does resonate with some clients out there," he said.
He encouraged other agencies to try for B Corp status, because the ideas behind being a B Corp aren't much different from what many agencies already do for their own good, such as in being involved in the community.
"If you are supporting your community, and you support the environment, then you are already close to being there," he said.
Kerr said most service-oriented industries may be a good fit for B Corp status, particularly those in the insurance industry.
"Insurance is almost like a community or communal product in and of itself," she said. "It's about making sure bad things don't happen and taking care of people and things around you."
Insurance businesses that have become B Corps:
NRG Insurance
CAL Insurance
Griswold and Griswold Insurance Agency
MAX Insurance
Loyco
G2 Insurance Service
Clark-Theders Insurance Agency
Impact Insurance
Redwoods Group
Yapacopia
Baypoint Benefits
Direct Dental
Freelancers Insurance Agency
Main Street Benefits
Burnham Benefits
Was this article valuable?
Here are more articles you may enjoy.