When California Gov. Jerry Brown signed the 2015-2016 budget, it included $3 million in funding to expand the Earthquake Brace and Bolt program and clarified that the program's grants are income-tax exempt at the state level.
California Insurance Commissioner Dave Jones said this expansion represents an important public investment in the protection of Californians from the dangers of earthquakes.
"Over a million homes in California should be retrofitted to better survive the next earthquake," Jones said in a statement.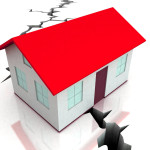 According to the United States Geological Survey, many of the state's faults are overdue for an earthquake, and they predict that a major temblor is likely to strike California within the next 30 years, which could cause serious damage to millions of homes and residential structures.
Recovery from a disaster of this magnitude will be even more costly, considering less than 12 percent of homes are protected with earthquake insurance, according to the California Department of Insurance.
The earthquake brace pilot program launched in September 2013, and 650 homes in Alameda, Los Angeles and Napa counties are targeted for retrofits this year. However, there are roughly 1.2 million vulnerable homes in high risk earthquake zones throughout the state that are potentially eligible for the program.
The earthquake brace program is administered by the California Residential Mitigation Program, which is a joint powers authority of the California Earthquake Authority and the governor's Office of Emergency Services.
Was this article valuable?
Here are more articles you may enjoy.