Before Uber, Lyft and other so-called transportation network companies can rev up to offer rides in Nevada, a state agency's draft rules have a few more steps to navigate.
The Nevada Transportation Authority this week submitted 15-pages of draft regulations to the Legislative Counsel Bureau.
The regulations still face a future public hearing and approval by state lawmakers on the Legislative Commission.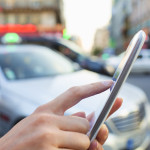 Based on the draft, companies could be on the hook for a $300,000 application fee and a 1 percent levy on annual operating revenues. Drivers could face a $50 fee the first year and $10 annual renewal.
The draft rules don't appear to restrict where ride-hailing cars can pick up or drop off passengers. It also doesn't address a company's ability to charge surge-pricing during peak travel times.
Copyright 2020 Associated Press. All rights reserved. This material may not be published, broadcast, rewritten or redistributed.
Was this article valuable?
Here are more articles you may enjoy.