One of the top Republican leaders in the Arizona House wants to accelerate cuts to insurance company taxes that were included in a bill he sponsored.
Majority Whip David Livingston of Peoria has filed a bill for the upcoming session that quickens the pace of cuts enacted this year. Those cuts dropped the taxes insurance companies pay by $1.3 million in the first year with the amount rising each year until it tops $35 million in 2026.
Livingston's House Bill 2002 nearly halves the amount of time before the entire tax cut goes into effect and also boosts the cuts starting this year. That means the estimated $35 million in cuts would be in force in six years instead of 10.
Insurance companies pay 2 percent of the premiums they charge for property, casualty and life polices in taxes. The bill passed this year gradually drops that rate to 1.7 percent in 2026.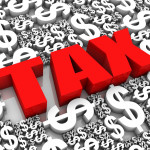 It's the first proposed tax cut to surface this year, but others are expected from GOP lawmakers and Republican Gov. Doug Ducey, who campaigned in 2014 on cutting taxes.
Livingston said in an interview Wednesday that he believes insurance companies were left out of corporate tax cuts enacted earlier this decade and the industry deserves lower taxes.
"I think it's important to realize that insurance companies that pay insurance premium tax pay more than 60 percent of the corporate income tax paid in Arizona," Livingston said. "So when the big tax bill went through (in 2011) to get companies back here, insurance companies were left out."
Livingston defended the new bill, which come just seven months after Ducey signed the 2016 insurance tax cuts, saying he had an agreement with the governor.
"A lot of us wanted a four-year or five-year or six-year bill, but we came to the conclusion that we would do it as a 10-year," he said. "They are aware that I am doing it as a six-year this year and they're not against it."
Democrats who believe the GOP-led Legislature is rushing to cut taxes despite historically low school funding and other needs in the state were disheartened.
"The unfortunate part is we just had this special session on education funding and this was supposed to be just the first step and then we're going to begin investing in our schools and universities," said Rep. Eric Meyer, the Democratic House leader. "But we can't do that if we have no revenue stream."
Insurance companies are projected to pay $501 million in the current budget year before the new tax cuts go into effect, according to the Legislature's budget analysts.
Livingston pointed to the need to be competitive with other states.
"We want insurance companies moving to Arizona, we want the existing insurance companies to expand," he said. "The jobs are really good jobs in the insurance industry, and they usually have very good benefits."
Copyright 2020 Associated Press. All rights reserved. This material may not be published, broadcast, rewritten or redistributed.
Was this article valuable?
Here are more articles you may enjoy.