Red light cameras led to nearly 40,000 tickets in Seattle. in 2015. Now Washington's largest city is considering adding more.
KING-TV reported Seattle's existing red light cameras brought in more than $5 million last year.
The Seattle Department of Transportation is looking for ore intersections to install red light cameras. The program has been in Seattle since 2006.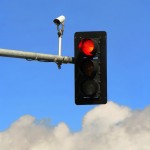 There are 31 cameras at 23 intersections throughout Seattle.
Copyright 2020 Associated Press. All rights reserved. This material may not be published, broadcast, rewritten or redistributed.
Was this article valuable?
Here are more articles you may enjoy.