California Insurance Commissioner Dave Jones has approved a new rideshare insurance product from Allstate Insurance.
The Allstate coverage is for for people driving for transportation network companies like Uber and Lyft.
Beginning in April, TNC drivers will have the option to purchase Allstate's "Ride for Hire" endorsement for an estimated additional $15 to $20 annually for improved insurance coverage during Period 1, while the app is activated and the driver is looking for a new fare.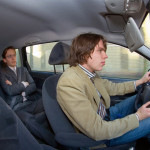 Transportation network company services generally fall into three periods: Period 1: the driver has the rideshare app open and is waiting for a match; period 2: A match has been accepted, but the passenger has not yet been picked up (the driver is on the way to pick up the passenger); Period 3: From the time the passenger is in the vehicle until the passenger exits the vehicle.
Allstate's new coverage provides rideshare drivers coverage throughout the entire ride cycle. Previously, drivers were only covered by TNC commercial insurance once they accepted a ride.
Related:
Topics California Ridesharing
Was this article valuable?
Here are more articles you may enjoy.