Cities and towns will be barred from making their own rules regulating drone use under legislation signed this week by Arizona Gov. Doug Ducey that was designed to prevent a patchwork of regulations that would make it harder for businesses.
Sen. John Kavanagh, R-Fountain Hills, crafted the legislation after working with cities and towns and other groups. Businesses that hope to use drones commercially were pushing for uniform statewide rules.
The bill makes it a crime to use drones if they interfere with police or fire operations or if they are photographing sensitive locations like nuclear power plants. Cities with more than one park must allow their use in at least one.
A provision making it a crime to videotape or photograph someone in their yard was removed at the insistence of Rep. Eddie Farnsworth, R-Gilbert. He said there's no expectation of privacy for people who are outdoors, even in their own yards.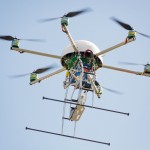 The main reason for the proposal was to sideline local laws, Kavanagh said.
Paradise Valley passed a drone ordinance in December and Glendale and Phoenix were considering rules.
The Paradise Valley law makes reckless operation or unauthorized videotaping of someone in their backyard a misdemeanor. It also requires commercial operators to notify the city when they plan to operate a drone. That got pushback from supporters of companies such as Amazon that hope to use drones commercially.
"The main thrust of the bill was to pre-empt cities and towns from regulating drones, because they were beginning to pass illegal regulations that the federal government pre-empts," Kavanagh said. "That was the reason we just wanted to have one statewide standard."
Federal Aviation Administration regulations on unmanned aircraft are still being revised. Kavanagh said it appears those rules will override state regulations anyway.
"Which is unfortunate, because I don't know that they have the same sensitivity to privacy that we have," he said.
Related:
Copyright 2019 Associated Press. All rights reserved. This material may not be published, broadcast, rewritten or redistributed.
Was this article valuable?
Here are more articles you may enjoy.