Thousands of people driven from their homes in the hills northwest of Los Angeles were allowed to return Sunday night after crews working in steep canyons took advantage of cooler temperatures and calmer winds to beat back a brush fire.
The fire near the prosperous and semi-rural neighborhoods of Calabasas was 80 percent contained by sunset – up from 30 percent at daybreak.
Firefighters using aircraft made water drops along the eastern and southern edges of the blaze, which was held to just over 500 acres, according to the Los Angeles County Fire Department.
All the evacuations, most of them in Calabasas but some in nearby Topanga, were canceled starting at 6 p.m.
At the height of the fire, about 3,000 homes were threatened and about 5,000 residents were under evacuation orders. It was sparked by a car crash that downed power lines.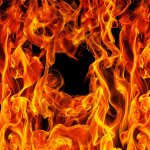 The fire destroyed one commercial building, according to fire officials, who had previously said three homes had been damaged, but closer examination as the fire calmed showed that was not the case.
Fifty-foot-high flames erupted on ridges, and embers turned trees into torches Saturday afternoon. The fire flared as Southern California sweltered under temperatures that hit the 90s in many places.
Flames raced through drought-dry brush and came within yards of million-dollar homes. The smoke could be seen across the region, and a dusting of ash rained down on neighborhoods more than 30 miles away.
More than 500 firefighters, aided by bulldozers and water-dropping helicopters, were on the scene, but the numbers were decreasing by the end of Sunday.
To the southeast, a smoky wildfire burning in Riverside County was 65 percent contained Sunday. The blaze that broke out a day earlier along Interstate 15 in Temecula charred about 140 acres of dry brush. No structures were threatened.
Associated Press writer Robert Jablon and photographer Richard Vogel contributed to this report.
Copyright 2021 Associated Press. All rights reserved. This material may not be published, broadcast, rewritten or redistributed.
Was this article valuable?
Here are more articles you may enjoy.