Minor Quake Shakes Remote California Farm Country
A minor earthquake has shaken farmland in California's Imperial County south of the Salton Sea.
The U.S. Geological Survey says the 5:55 a.m. Thursday quake had a preliminary magnitude of 3.7 and was centered four miles south of the city of Brawley.
The temblor occurred at a depth of 6.5 miles.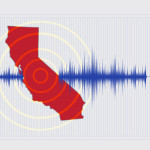 Brawley is 130 miles east of San Diego.
Related:
Copyright 2021 Associated Press. All rights reserved. This material may not be published, broadcast, rewritten or redistributed.