The lava flow from Kilauea's Puu Oo in remains active and is now only about a half a mile away from the ocean
The Hawaiian Volcano Observatory reported that the lava had been circulating and occasionally spattering at Halemaumau Crater. The lava surface was 70 feet below the crater rim and still poses no threat to nearby communities.
Scientists say the flow from the Puu Oo vent, which began May 24, has traveled south down Kilauea and across the coastal plain for the first time since 2013.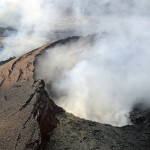 The flow now stretches about 6 miles from the vent and is headed southeast along the eastern border of Hawaii Volcanoes National Park.
If the lava reaches the ocean, scientists warn there could be steam explosions, collapsing lava deltas and other hazards.
Copyright 2021 Associated Press. All rights reserved. This material may not be published, broadcast, rewritten or redistributed.
Was this article valuable?
Here are more articles you may enjoy.