Investigators from the Idaho State Fire Marshal's Office looking into a fire last week at a local business in Council believe the blaze could have been caused by heavy snowfall.
Many parts of Idaho have received record-breaking snowfall since mid-December.
The owner of the business removed snow from the roof, but the excess snow from the roof piled up along the back side of the building and against the propane gas pipe to the building, according to investigators.
The added weight and shifting of the snow pile caused the pipe to crack, allowing propane to fill the building, investigators say.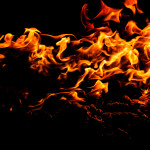 A security video shows a worker checking the pilot light on the hot water heater after smelling propane when she opened up the business, then leaving the storage room and a few minutes later the propane ignites and begins to burn at the wall where the broken pipe was located, according to a release from the Idaho Department of Insurance.
The DOI and State Fire Marshal Knute Sandahl offered some safety recommendations that can be passed along to home and business owners:
Walk around the perimeter of a home during and after snowfall and check for blocked vent pipes. Furnaces, dryers, and other flame-heated appliances are often vented to the outside through walls. Blocked vent pipes could cause deadly amounts of carbon monoxide to build up inside a home or building.
A carbon monoxide detector is a must if a house or building has any appliance heated by flame.
Have flame-heated appliances checked and inspected regularly by a qualified technician. Loose fittings, cracks in piping, and other issues can be found and corrected before a tragedy occurs.
If you happen to smell natural gas or propane, leave the building and call 911 from outside or from a neighbor's home.
Was this article valuable?
Here are more articles you may enjoy.