The Cody Gunfighters show in Wyoming will not resume anytime soon. And that's because the organizers can't get insurance.
The Cody Enterprise reported the performers were unable to acquire liability insurance, which keeps the show on the shelf for the foreseeable future.
The show was suspended after a gun loaded with bullets rather than blanks was fired toward spectators during a performance July 29, injuring three bystanders. The Gunfighters show was shut down through the 2016 tourist season.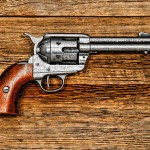 During a City Council meeting in April, Cody Police Chief Chuck Baker said as long as the Gunfighters followed the new conditions, which included acquiring liability insurance, he believed it would be a safe show and able to resume June 1.
Cody Gunfighters secretary/treasurer Tom Moore says he is hopeful the inability to get insurance won't be a permanent issue.
Copyright 2020 Associated Press. All rights reserved. This material may not be published, broadcast, rewritten or redistributed.
Was this article valuable?
Here are more articles you may enjoy.