San Francisco has pulled the plug on electric scooters that authorities say were blocking sidewalks and building entrances.
The San Francisco Chronicle reported that Public Works inspectors impounded about 66 scooters last week.
The crackdown comes about two weeks after companies that rent the standup scooters deposited hundreds of them throughout the city. The scooters can be rented through an app and dropped off anywhere.
Officials say that's the problem with the trendy transportation – people are leaving them anywhere.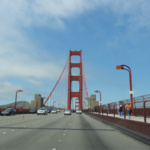 Public Works spokeswoman Rachel Gordon says the three scooter companies – Lime, Bird and Spin – will be fined at least $125 for each impounded scooter.
They can pay the fine, appeal or solve the problem.
The companies say they'll work with the city to find solutions.
Copyright 2021 Associated Press. All rights reserved. This material may not be published, broadcast, rewritten or redistributed.
Was this article valuable?
Here are more articles you may enjoy.