Visits to the California Earthquake Authority website reportedly increased by nearly 10 times normal following the largest earthquakes to hit Southern California in 20 years.
The quakes over 4th of July holiday weekend were big. A 6.4 magnitude occurring on Thursday and an M7.1 that hit the area late on Friday struck in a remote area near the town of Ridgecrest, about 150 miles north of Los Angeles.
The quakes buckled highways and ruptured gas lines that sparked several house fires, and officials said about 50 homes in the nearby small town of Trona were damaged.
The damage could have been worse in a more densely populated area. However, nerves were frayed by the large quakes, which were felt widely throughout the region.
California Gov. Gavin Newsom said following quakes that governments must strengthen alert systems and building codes, and residents should make sure they know how to protect themselves during an earthquake.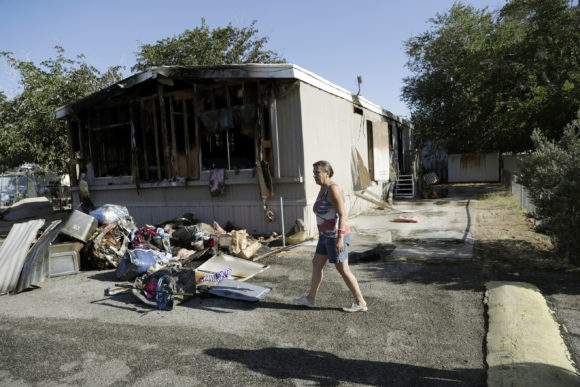 Since standard homeowners insurance policies do not cover earthquakes, buyers must get a separate endorsement or buy a policy from the privately funded and publicly managed CEA.
California's earthquake insurance market share is dominated by the CEA (41.2 percent) followed by Zurich (8.7 percent) and Chubb (5.3 percent), according to Morgan Stanley Research.
Glenn Pomeroy, the CEA's CEO, said the authority saw a dramatic uptick in the volume of visitors to the CEA website after the quakes struck.
"From then until today our website hits are nearly 10 times normal," Pomeroy said in an interview on Tuesday.
Roughly 17,600 visitors are recorded on the CEA website over a typical four-day period. During the four days after the quakes, the site recorded more than 151,000 visitors, and the number of visits have continued to be unusually high, according to Pomeroy.
A similar surge of interest was seen on the CEA site after the M5.1 earthquake that struck La Habra on March 28, 2014.
CEA policies, which are sold through participating carriers, go into effect immediately for everyone except for residents of the stricken area. Those residents can buy a policy now, but coverage does not go into effect until after a 15-day period following the initial temblor.
The CEA is not expected to have final policy sales figures for July until mid- to late-August, but Pomeroy believes the number of sales will be up.
"Our website hits are going through the roof, so we're anticipating an increase in policy sales," Pomeroy said.
It's also too early for damage or claims estimates.
"We received some claims already; we'll receive more," he said.
Roughly 50 claims have so far been reported, out of the approximately 2,000 CEA policyholders in the stricken area, according to Pomeroy.
"Most of them experienced strong shaking," he said. "So we know we're going to get claims in that area."
Carriers have set up centers in Ridgecrest and Trona to enable policyholders to submit claims and ask questions.
Earthquake insurance take-up rates are low in California, typically hovering at just above 11 percent of homeowners buying coverage. However, the take-up rate in Ridgecrest is 20 percent, according to the CEA.
Pomeroy visited Ridgecrest and nearby town of Trona immediately following the quakes.
In Ridgecrest he saw numerous streetlights blinking, a lot of activity from emergency vehicles, and some closed restaurants and storefronts.
"You just don't see much evidence of heavy structural damage," he said, acknowledging that there could still be widespread interior damage.
Damage in Trona was more noticeable, he said, adding, "That was hit harder."
The remoteness of the areas, with a lack of large structures and small and widespread populations, may keep losses down.
Had the quakes struck in densely populated areas, damage estimates could be in the billions of dollars, with thousands of homes rendered uninhabitable, Pomeroy said.
"You put that earthquake under the city of Los Angeles, and we'd be here this morning talking about something different," he said.
Related:
Topics California Catastrophe Claims Earthquake
Was this article valuable?
Here are more articles you may enjoy.