Access to affordable healthcare for all, ensuring greater diversity in the insurance industry, and finding more creative solutions to deal with climate change risk were the priorities laid out by California Insurance Commissioner Ricardo Lara on Thursday.
Lara was discussing issues in California insurance at the 2nd Regional California & Hawaii Annual All Industry Day hosted by CPCU Chapters of California El Camino, Los Angeles, Orange Empire, San Diego, Sacramento, Golden Gate, and Hawaii. The virtual conference was held via zoom.
Lara addressed a variety of issues, but spent the majority of his time on three big topics.
"Access to affordable healthcare for all is really a fight of our generation," Lara said.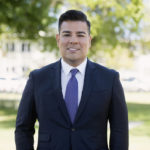 Lara, who pointed out that he's gay and the son of immigrants, said the state's insurance community must adapt to a changing demographic, with Latinos expected to make up a signification portion of the state's populous in the next 20 years.
"I bring my own life experience as to how I approach my role as insurance commissioner," Lara said.
He believes that it's essential to tackle the problem of how to diversify the insurance industry to fully represent of the people of California.
"We have a really unique opportunity to push bold initiatives that really pave the way for our community," Lara said.
Lara also called for creative solutions to solve climate risk.
"The risks of climate-related disasters are rising as we all known," he said. "We need to engage in the insurance industry in this fight like never before."
Wildfires driven by drought and extreme heat, which Lara notes are functions of climate change, are making the insurance market tougher for homeowners in high-risk areas.
"Non-renewals in parts of the state are making it really increasingly difficult for some to find coverage on the open market," Lara said.
Solutions he believes that should be considered include climate insurance to strengthen community preparation, maintaining healthy forests, wetlands to combat sea level rise, and building urban green space to reduce heat.
The industry and regulators need to all work together, he said, adding that "our planet can't wait."
"We're all after the same things – a strong and competitive insurance marketplace where consumers can find what they need at a fair price," Lara said.
Other speakers at the conference included Sharon Koches, president and chair of the CPCU Society Leadership Council, talking about the present and future of the CPCU Society. Koches covered the Strategic Plan for 2022-2024, which lays out a number of goals that include increasing visibility and promotion of active membership, collaborating and partnering with other organizations and connecting members to leadership opportunities.
Vida Thomas, a partner at Oppenheimer Investigations Group, discussed diversity and inclusion.
A cyber liability roundtable discussion included moderator Emy Donavan, venture partner at Fin Venture Capital, Amanda Stantzos, vice president of cyber liability underwriting Corvus Insurance, and Jenny Soubra, U.S. head of cyber and tech E&O practice for Canopius Group.
Stantzos discussed what a submission process looks like.
"We have been looking for the most comprehensive submission every single time," Stantzos said.
She said they look at both the operation as a whole, and from an IT infrastructure standpoint.
Multi-factor authentication is practically a "ticket for entry" that is required almost universally before a cyber policy is written, according to Stantzos.
"That's the first thing a broker or insurer may get pushback on," she said.
Soubra also said he's seeing cyber submissions getting more scrutiny nowadays.
"We're looking a lot closer at submissions these days," Soubra added.
According to Soubra, when looking at pricing they consider data points like revenue, as well as the record count and the types of records a company has, which she said is something that many carriers are starting to pay closer attention to.
"The different types of data holds different values when they are sold from one criminal to another," Soubra said.
Stantzos discussed claims trends, one of which is the curious timing of hacks.
"These ransomware attacks love to happen over the holiday weekend," Stantzos he said. "The bad actors like to lurk in when you're not watching."
Topics California
Was this article valuable?
Here are more articles you may enjoy.