Website Advertising
InsuranceJournal.com is the highest-trafficked
P/C insurance news website in the U.S. Confirmed by SimilarWeb.com, Aug 1, 2023
1,185,773
Page Views per Month BPA Audit, Average Jan-June 2023
634,094
Users per Month BPA Audit, Average Jan-June 2023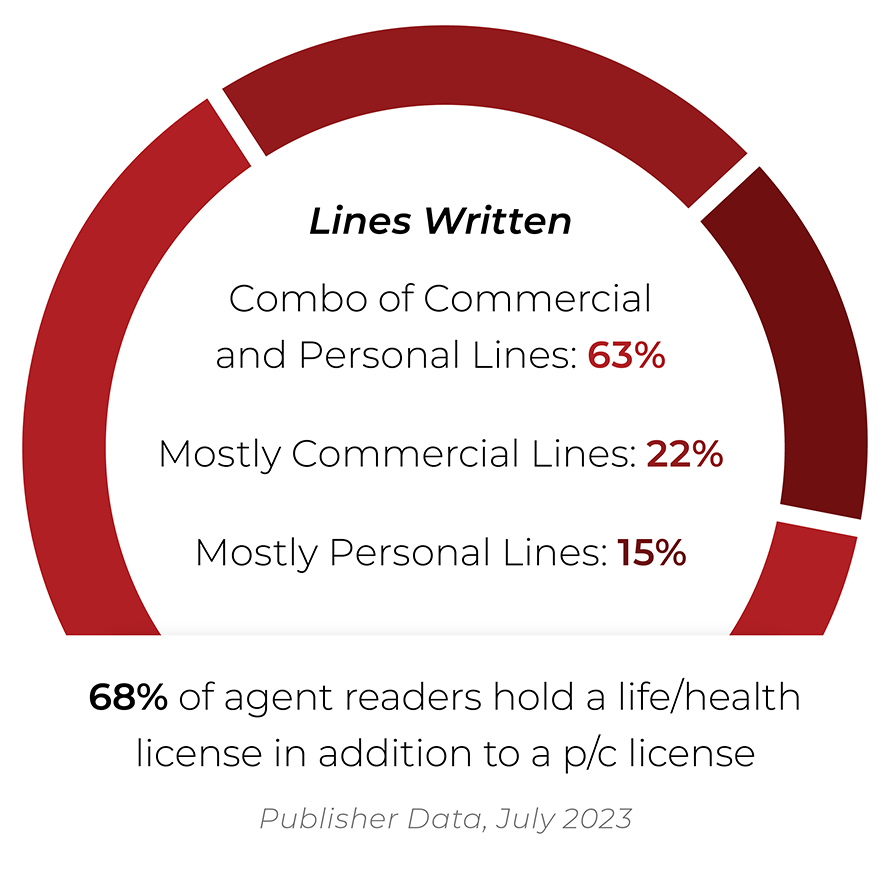 Buying Responsibility
Risk Management (of any kind): 52%
Selecting Insurance Markets: 37%
Technology Selection: 30%
Hiring Consultants (of any kind): 28%
Employee Benefits: 22%
Selecting Legal Services: 22%
Claims Administration: 19%
Asset Management: 16%
Selecting Claims Services: 16%
Third Party Administration: 15%
Publisher Data, July 2023
Education Level
College: 48%
Grad School: 24%
Quantcast, July 2023
Job Title / Function
Owner / Principal: 19%
C-Level (CEO, COO, CIO, CTO): 13%
Sales / Producer: 13%
Manager / Supervisor: 12%
Underwriting: 10%
Customer Service: 4%
Risk Manager / Insurance Buyer: 4%
Consultant: 3%
Marketing / Advertising / Public Relations: 3%
Legal: 2%
Technology: 2%
Publisher Data, July 2023
Household Income
$150k+: 24%
$100k-$150k: 20%
$50k-$100k: 31%
<$50k: 25%
Quantcast, July 2023
Age Distribution
18-24: 6%
25-34: 19%
35-44: 23%
45-54: 24%
55-64: 18%
65+: 10%
Quantcast, July 2023
Company Type
Ind. Retail Insurance Agency: 38%
Standard Lines Insurer: 20%
Wholesaler / MGA / Surplus Broker: 8%
Consulting: 5%
Captive Retail Agency: 3%
Legal: 3%
Service Provider: 3%
Excess Surplus Insurer: 2%
Reinsurance Company: 2%
Technology: 2%
Publisher Data, July 2023
Company Size
10k+ Employees: 21%
5k-10k: 6%
1k-4,999: 15%
500-999: 7%
200-499: 8%
50-199: 13%
10-49: 18%
1-9: 11%
Bombora, July 2023
Company Revenue
$1B+ in Revenue: 27%
$200MM-$1B: 12%
$100MM-$200MM: 6%
$50MM-$100MM: 6%
$10MM-$50MM: 16%
$1MM-$10MM: 20%
<$1MM: 14%
Bombora, July 2023
Agency Premium Volume
$100MM+: 10%
$50MM-$99.9MM: 6%
$20MM-$49.9MM: 7%
$5MM-$19.9MM: 19%
$1MM-$4.9MM: 30%
<$1MM: 16%
Publisher Data, July 2023
---
Website Sponsorship Positions

---
Sitewrap Banner
Our most high-profile creative unit allows you to align yourself with the highest-trafficked P/C insurance news site on the planet.
Your giant banner is displayed full screen above and around the site.
The side portions of your banner are visible on screen for the entire time the reader is on the page—even after scrolling to the very bottom.