As I watch the daily tracking of Hurricane Florence and anticipate its potential destruction, I am compelled to revisit this June blog post and share it with you once again.
In the words of Peter Criss, "I can't stop the rain" … and where there's rain, there could be flooding for many more of us than traditional FEMA flood maps indicate. A startling new study from University of Bristol illustrates the discrepancy:
"The study—which integrates new maps from the Environmental Protection Agency that more precisely estimate where people live now and where future population growth is expected—predicts that under potential population growth and development projections, more than 60 million Americans may be vulnerable to a 100-year flood by 2050."
With an uptick in activity within the private flood market, coupled with the catastrophic events of 2017, I've received a number of informative reports to review with you – including one I've drafted, all with intent to support your marketing efforts as you demonstrate the many facets of storm damage to prospects and clients.
Top Private Flood Insurers 2017 Market Study – In 2016, line item 2.5 was added to the statutory financial statements, for P/C carriers, to track private flood insurance direct premiums written. With 2 years of reporting available for analysis, I've compiled a concise, 10-page brief on the top carriers and growing geographic markets. This report offers you insights into the carriers entering both the residential and commercial markets. Sneak preview of page 6:

2017 Hurricane Season: Review and Analysis – Karen Clark & Company provides extensive post-event analysis of the major hurricanes of 2017. Whether your focus is commercial or residential, the detail in this report will assist you in conveying the specifics around property damage from these storms as you discuss the future possibilities with your prospects. Detailed analysis of each storm offers interesting insights into the damage caused to structures specific to age, construction and location of buildings. Examples such as this image from page 12 provide details of why structures failed under the strain of each storm.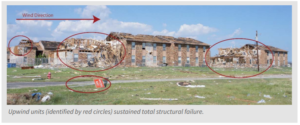 2017 State of U.S. High Tide Flooding – National Oceanic and Atmospheric Administration (NOAA) provides predictions for 2018/19 high tide flooding, complete with data and graphics. To learn that high tides are, on average, 60% higher than in 2000 across US coastlines offers yet another statistic in support of proper risk mitigation. As one of our more technical paper, I'd direct you to pages 6-8, which offer 2018 predictions for high tide flooding along the US coastline.
2018 CoreLogic Storm Surge Report Data Summary – Our sponsor, CoreLogic, has offered their full Storm Surge report via an email link to those who download this Data Summary. The full report provides an annual evaluation of the number and associated reconstruction cost value (RCV) of single-family residential homes in the U.S. that are vulnerable to storm surge from the Gulf of Mexico and Atlantic basins. If your market includes the 19 states which border the Gulf and Atlantic Coasts, this summary is very insightful. Page 2 provides the total at risk homes per state for the top 19 states impacted by storm surge and page 3 offers reconstructive values by state and within major metropolitan areas at risk (page 4). Finally, predictions for the 2018 hurricane season from CoreLogic and other reputable institutions can be found on page 6.
As noted in my Top Private Flood Insurers 2017 Market Study the private flood market, direct and surplus carriers combined, expanded to 22% of the flood insurance market in 2017, doubling it's presence. The growth far exceeded that of NFIP and the opportunity extends far beyond that mandated by flood maps and regulation. There is great opportunity to educate property owners about their existing coverage, what options are available for flood coverage and why it is as critical to insure against flood as fire – whether dwelling near streams and ponds, rivers and lakes or coastal areas.
We will continue to host reports on weather and flood to support you in your professional efforts. To receive weekly updates, subscribe to our e-newsletter for the latest webinars, reports and whitepapers.
Happy reading – Pam Simpson
Was this article valuable?
Here are more articles you may enjoy.