The National Flood Insurance Program has paid about $8.6 billion in claims from Hurricane Harvey and projects all claims from the three 2017 hurricanes to total about $9.7 billion, according to a new report compiled by the Congressional Research Service. That total is nearly 40 percent less than the estimate provided last fall that spurred Congress to erase $16 billion of the program's debt to taxpayers.
The CRS authors attributed the current claims estimates to email correspondence with congressional affairs staff of the Federal Emergency Management Agency, which oversees the flood program. The officials noted that the $9.7 billion total does not include loss adjustment expenses, which would add another 5.3 percent, nor does it include supplemental claims payments or expenditures for increased cost of compliance.
An April update from CRS noted that FEMA now projects the NFIP will see between $8.7 and $8.84 billion of total claims from Hurricane Harvey and between $1.003 and $1.04 billion of claims from Hurricane Irma. Hurricane Maria is only projected to produce between $25 and $34 million in claims, due to extremely low flood-insurance penetration in Puerto Rico. Thus, even at the high end of the estimates, the 2017 storms would produce just $10.22 billion of NFIP claims, or 36 percent less than the debt Congress voted to forgive.
And it is now clear that Congress' debt forgiveness plan was utterly for naught. The proposal to forgive the $16 billion, based on FEMA's then-current projections of total 2017 hurricane claims, came in October from White House Budget Director Mick Mulvaney. In a letter to Vice President Mike Pence, Mulvaney proposed paring that forgiveness with a series of reforms that largely mirrored, and in some cases went beyond, those included in H.R. 2874, the 21st Century Flood Reform Act, which passed the U.S. House in November by a 237-189 vote.
But while Congress moved within weeks to forgive the debt, the reforms never came. Even though the NFIP's statutory authority was scheduled to expire Sept. 30, 2017, the Senate Banking Committee has yet to take any action at all on flood insurance this session. Instead, the program has been continued through a series of six short-term reauthorizations, with the current one set to expire July 31.
Another six-month extension of the program was included in the Senate version of the farm bill, passed June 28, although it's not certain whether it will remain in the bicameral version that emerges from conference committee. A stand-alone six-month reauthorization also has been introduced by Sen. John Kennedy, R-La., as S. 3128. Whichever path it takes, a six-month extension would push long-term reauthorization, and any hope for fundamental reform, into the 116th Congress, whose partisan leadership remains very much uncertain.
As we move into the heart of the 2018 Atlantic Hurricane Season, with Beryl having recently been named the season's first hurricane, FEMA reports the NFIP has about $15.7 billion of claims-paying capacity, including $9.9 billion of borrowing authority from the U.S. Treasury.
The program had previously capped out its borrowing authority of $30.425 billion in September 2017, borrowing the remaining $5.825 billion on Sept. 22. Congress voted to cancel the $16 billion of debt in late October, but the NFIP subsequently borrowed an additional $6.1 billion in November 2017. As the following graph illustrates, the program remains about $20.5 billion in debt to taxpayers.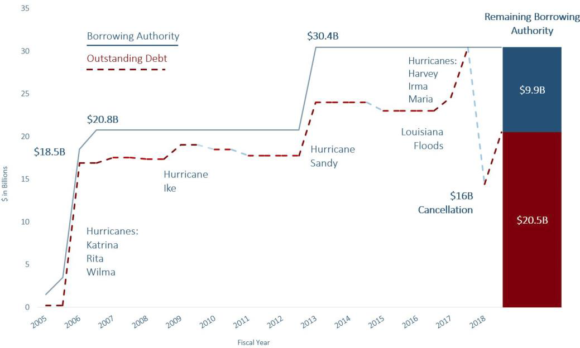 SOURCE: FEMA
All told, since 2004, when the program's debt was $0, the NFIP has borrowed $39.4 billion from taxpayers. It has repaid just $2.82 billion of that principle. In a report last September, the Congressional Budget Office projected that, as currently structured, the program should be expected to lose $1.4 billion on an annual basis.
With red ink as far as the eye can see, the time for reform is now, not in six months. This can is too expensive to kick any further down the road.
Topics Claims
Was this article valuable?
Here are more articles you may enjoy.