Editor's Note: This article originally appeared in Insurance Journal's Satire Issue, August 15, 2011. The content in this issue is not real and is not to be taken seriously. It's supposed to be humorous. Seriously.
Beyond advancing older and heavyset employees, the property/casualty insurance industry should reflect the changing face of America in other ways. The industry must do a better job of attracting and promoting more women, minorities, tech-savvy young people, gays, disabled workers, unemployed Americans and illegal immigrants, says Heidi Seik, who heads the Diversity in Business Council. "The industry has a very good track record of recruiting straight white men. It just needs to apply some of those same techniques to emerging populations," she says. Here are some quick tips from Seik for diversifying an insurance business:
Announce on Facebook that you are a progressive-thinking employer.

Translate your agency slogan into a foreign language. (But be careful. Coors put its slogan, "Turn It Loose," into Spanish, where it was read as "Suffer From Diarrhea.")

Attend funerals in a minority community.

Condense an entire policy and all of its exclusions into a Tweet.

Sign your business e-mail messages with a smiley face! Also, overuse explanation points whenever possible!!

Hold a Personal Umbrella for Same-Sex Couples, or Singles, or Hispanic/Latino Couples, or Illegal Immigrants, wine tasting. Don't embarrass yourself. Go light on the legalese and the Pinot Grigio.

March in a local ethnic parade or attend a festival wearing an appropriate costume.

Open an agency office in the local unemployment office.

Fly the flags of various nationalities and/or a rainbow flag outside your office.

Actually interview some minority candidates for a change.
Was this article valuable?
Here are more articles you may enjoy.
From This Issue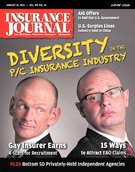 The Insurance Journal Satire Issue! News that never happened. Features you won't forget. Plus reader submissions, fake statistics, made-up mergers and lots more.