The marina insurance market seems to be heading for some changes, thanks to the stormy losses of 2011.
While the hard/soft market cycle has been a fact of life for the insurance industry almost since its inception, it is beginning to morph into a more individual pattern, which could be termed "cycle specific." Essentially, the cycle is affected by regional events. The Japan earthquake and tsunami raised rates in that country, as did the earthquakes in New Zealand and the floods in Australia. But these events had a far lesser effect on the overall cycle, which is still generally a soft market.
Marina coverage is no exception. "Generally it's still a soft market," said Kerry Stuckey, COO and co-founder of Stuckey and Co., a St. Louis-based wholesale agent that specializes in marinas, as well as other specialty lines. However, the high number of tornadoes that struck the South and Midwest, particularly the massive destruction in Joplin, Mo., as well as the floods in Tennessee, have raised exposure levels and have pushed rates for marina coverage up by nearly 25 percent.
"Marina owners can't afford those kind of rates," said Jerry Lovin, sales and production manager for Stuckey and Co. "They can't pass them onto their customers."
Those natural catastrophes have combined with the economic recession to significantly affect the marina insurance market. Many carriers who formerly offered coverage have withdrawn from the market, Stuckey explained. "There are only about five or six [carriers] nationwide who now write coverage, he said. While some of the business has gone into the surplus lines market, a dearth of capacity nonetheless exists in certain regions."
Disasters have pushed rates for marina coverage up by nearly 25 percent.
As Stuckey and Co. is based in the Midwest, it is squarely faced with the problem. "We wrote fast in 2011," Lovin said. "We've already reached our aggregate exposure in some states, notably Arkansas and Tennessee." The company, which up until 2001 placed most of it coverage with the Lloyd's market, is fortunate to have an "A IX rated" carrier with whom its marina coverage is usually placed.
Marina insurance — which involves coverage for buildings, other structures and docks in the event of an accident or disaster – can be expensive, especially for larger facilities that may have restaurants, bars and leisure facilities in addition to marina operations. The cost of coverage, therefore, varies depending on how extensive the facility is and what types of activities it engages in.
Property Coverage
Property typically covers well-known perils — fires, windstorms, thefts and other damage. In this sense, marina policies don't differ too greatly from other commercial coverage. However, there are additional and unique perils that require specialized insurance policies.
"The biggest losses are from weather claims — especially to floating property, mainly docks," Stuckey said. He explained that in many areas, floating docks are especially exposed to severe weather, including tornadoes, hurricanes, blizzards and flooding. Boats owned by marinas are also at risk, as well as other facilities.
"Covered docks are frequently damaged by ice and snow, which can cause the roof to collapse," Stuckey said. In areas where snowstorms are frequent, especially following the severe winter in 2010, a number of carriers have withdrawn coverage for this type of damage, or have raised rates and increased deductibles.
HarborGuard is Stuckey and Co.'s flagship product, which launched the company 20 years ago. Today the company offers an ensemble of coverage for "onshore property, offshore property, vessels' property and rental boat physical damage." Stuckey's web site describes HarborGuard as "a comprehensive program for this specialized market, with tailored liability insurance for a wide variety of businesses, including marinas and boat yards, boat dealers, and marine artisans, including boat repair and supply shops." Stuckey explained that coverage usually is offered on a "program basis," and can include business interruption coverage.
The perils covered, as well as the cost — the minimum premium, which includes liability, is $4,500 — take into account regional variations in weather. Ice and snow may hit the Midwest and the Northeast, but they aren't a serious problem in Florida or along the Gulf Coast, where hurricanes are problematic. In contrast, California's fires, earthquakes and Santa Ana winds pose a lesser risk to marinas. Because Stuckey & Co. operates in 48 states, it tailors policies to the insured's specific needs.
"It all depends on the location," Stuckey said.
Liability Coverage
As with property protection, commercial general liability (CGL) coverage for marinas includes most of the standard hazards, typically "slip and fall" type claims, both on land and in the water.
"They're basically the same [coverage] as you would have for a house or a car," Stuckey said. It covers accidents occurring on docks and boats, as well as "products and completed operations that would provide coverage for boats that have been repaired or winterized."
Coverage specific to marina operators includes "exposures arising from mooring, fueling, launching, hauling, storage and repair operations for customers' boats." Coverage also protects a policyholder who may be "legally liable for damage or loss to a customer's boat."
In addition, other types of policies cover a "marina operator's legal liability" (MOLL), and P&I (protection & indemnity) coverage for "watercraft liability," as well as one of boating's leading non-natural catastrophe perils — liquor liability. Coverage may also be obtained for "non-owned auto liability" and boat rental liability.
Marina owners, like all employers, are subject to rules mandating workers' compensation coverage, Stuckey said.
Was this article valuable?
Here are more articles you may enjoy.
From This Issue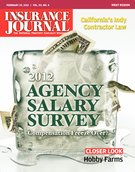 Agency Salary Survey; Boats & Marinas; Agribusiness / Farm & Ranch