Just a year after Congress approved changes in the oft-criticized federal flood insurance program, protests from homeowners facing higher premiums have coastal lawmakers pressing for delays to preserve below-cost rates for hundreds of thousands of people.
Homeowners in places like Staten Island, N.Y., along the New Jersey coast and in low-lying areas of Louisiana, Florida and Texas face the prospect of premium increases so big that they could be forced from their homes or see their market value plummet.
"That's insane," said Robert Taylor, a homeowner in Des Allemands, La. Taylor said the new law would bump his premiums from $400 to more than $28,000 a year. "This community has been here since 1923 and has never, ever flooded. Ever."
The issue is driven by a new flood map from the Federal Emergency Management Agency that says Taylor's home is 6 or 7 feet below flood stage. The map, however, doesn't take into account a levee built 80 years ago by the local government.
Already, people are paying higher rates for second homes.
FEMA estimates that about 20 percent of its 5.5 million policyholders – about 1.1 million – receive subsidies now. About 250,000 of them will see immediate increases: business owners, those owning second homes and people with frequently flooded properties. An additional 578,000 policyholders in hazardous areas will retain their subsidies until they sell their homes or suffer severe, repeated flood losses. The same is true for people in condominiums.
The insurance program has drawn criticism for its below-market rates and the billions in losses from repeat claims on homes and businesses.
Last year's legislation was one of the few things that everyone from tea party Republicans to liberals could agree on: It was time to bring soundness to the program by charging people rates that reflect their risk of being flooded.
Now comes the implementation. Starting late next year, FEMA will no longer grandfather in low rates for older homes built to the flood code in previous years that have now been rated to be at greater risk under new flood maps.
Already, people are paying higher rates for second homes. In October, rates on businesses in flood zones and homes that have been severely or repeatedly flooded will go up 25 percent a year until the rates represent the "true risk" of flooding. Also, subsidized rates will lapse when a home is sold or flooded repeatedly.
The changes have sparked controversy in Louisiana, New Jersey and Florida, where subsidized flood insurance has been a staple of the economy for decades. In some areas, home values have plummeted because of uncertainty over insurance rates. Home sales are falling through because subsidized rates can't be passed on to buyers. And some homeowners have learned that new flood maps will send their premiums skyrocketing.
In response to the firestorm, an unusual House coalition of Democrats and GOP conservatives teamed up on a 281-146 vote last month to delay some of the increases for a year. The measure, sponsored by Rep. Bill Cassidy, R-La., would block the phasing out of below-market, grandfathered premiums, but allow the phase-out of direct subsidies for those living in flood zones. Some prominent conservatives voted for the Cassidy amendment. Cassidy is running to unseat Democratic Sen. Mary Landrieu, who, for her part, is aiming for broader legislation but hasn't revealed her plans.
Supporters of the changes roll their eyes. They say the law is being implemented as designed and that it's just that people are upset by the higher insurance rates.
"This program was designed to bring some sanity to this flood program," Rep. Mick Mulvaney, R-S.C., said. "These are the exact intended consequences … that we would simply charge folks who are in risky areas more."
But FEMA's critics say the agency isn't taking into account non-federal levees and flood mitigation factors. David Miller, the FEMA official in charge of the program, acknowledges this and said the agency has put all mapping of levees on hold until a new policy goes into effect.
People whose homes were deemed at lower risk under previous building codes or flood maps could feel an even bigger impact. Before the reforms, they could retain their old rates, since they followed the rules at the time they bought or built their home. The new law will phase out such grandfathered rates, starting late next year.
This grandfathering change is the source of nightmare stories of homeowners who presently pay a few hundred dollars annually for their policy but face many-fold increases now.
Copyright 2018 Associated Press. All rights reserved. This material may not be published, broadcast, rewritten or redistributed.
From This Issue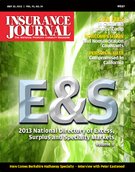 Excess, Surplus & Specialty Markets Directory, Volume II