It's no secret that Texas yearly suffers from an onslaught of all kinds of weather, particularly hailstorms. And from 2014 through 2016 the state topped the list for the number of insurance claims for hail damage, according to The National Insurance Crime Bureau (NICB).
Last year was particularly bad, with hail damage claims exceeding the number of claims in the previous two years combined, NICB said in its 2017 ForeCast Report on 2014-2016 United States Hail Loss Claims.
NICB's analysis showed that from 2014 through 2016 the state had 675,678 hail loss claims. With 81,668 hail loss claims, San Antonio, Texas, was the top city in the nation for such claims from 2014 through 2016.
Hail damage fluctuates year-to-year, but 2016 was a particularly devastating year across the country. An analysis of insurance claims from the Insurance Services Office (ISO) ClaimSearch database showed that after decreasing by 21 percent from 2014 to 2015, the number of hail claims nationwide jumped 48 percent to more than 965,000 in 2016.
The top 10 states represented 71 percent of the total number of hail loss claims in the US in the three years analyzed. Texas totaled more than four times as many hail claims as the second leading state, Colorado, and had 39 percent of all the claims filed last year.
The top 10 cities made up almost 15 percent of the total number of hail loss claims in the nation for the three-year period studied.
Across the nation, most hail claims, 55 percent, were for home damage with personal auto damage representing 32 percent of all hail claims.
From This Issue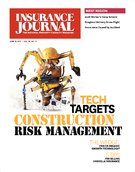 Construction; Medical Professional Liability; Umbrellas – Personal & Commercial