Mercury General commemorates 10th anniversary at NYSE
Mercury General Corp. rang The Opening Bell at the New York Stock Exchange on Friday, March 9, 2007, to commemorate its 10th anniversary of being listed on the NYSE. Pictured are Gabriel Tirador, Mercury's CEO and President. Tirador, Ted Stalick, vice president and CFO, and Chris Graves, vice president and chief investment officer.
Willis Re
Willis Re, the reinsurance arm of global insurance broker Willis Group Holdings, has opened a branch office in Seattle. The Seattle office will be managed by Doug May, who has been appointed executive vice president.
Prior to joining Willis, May served as a managing director at Guy Carpenter in Seattle. Drawing on his experience and particularly his property expertise, May will be a key contributor on Willis Re's team.
"The opening of our Seattle office will ensure we are well positioned to expand our presence in the Northwest, and the West Coast generally," commented Paddy Jago, CEO, Willis Re Inc.
Gainsco Auto Insurance
Dallas-based GAINSCO Auto Insurance, which insures drivers across the Southern United States, has expanded its operations into New Mexico and will sell its personal auto policies through a network of independent insurance agents across the state.
The company specializes in minimum-limits personal auto insurance sold only through independent agencies and serviced by bilingual claims and customer service representatives. GAINSCO President and CEO Glenn Anderson said he expects the number of cities to grow to 75 or more by year's end.
"Our goal is to build a long-term presence in the state and we're excited that so many agency partners have come on board with us at the very beginning," Anderson said.
Alaska Timber Insurance Exchange
The Board of Governors of the Alaska Timber Insurance Exchange, a policyholder owned workers' compensation insurance company, announced that a $1.8 million dividend was paid to its members on March 13, 2007. The dividend represented approximately 31 percent of ATIE's 2006 direct premiums and was allocated to each member based upon its safety performance and ownership level.
ATIE said its members' efforts to maintain safe workplaces helped the company to benefit and have been a part of the Exchange's success. ATIE is a policyholder owned insurance company specializing in providing workers' compensation insurance for Alaskan employers headquartered in Ketchikan, Alaska.
Wal-Mart
Wal-Mart Financial Services has withdrawn its controversial application seeking to start its own bank.
The retailer is one among 14 companies including the Home Depot with applications before the Federal Deposit Insurance Corp. to establish what are called industrial loan corporations, or ILCs. In January, the FDIC delayed a decision on the pending applications.
Various banks, unions and consumer organizations have opposed letting giant retailers into the loan business out of concern they would drive out local financial institutions.
There are now 61 ILCs with a total of about $141 billion in assets and $98 billion in deposits. Thirty-three are based in Utah, one of only seven states that grant charters for such banks. The banks are allowed to issue credit cards, take deposits and make loans. They cannot offer standard checking accounts if the bank's assets exceed $100 million.
In addition to Wal-Mart and The Home Depot Inc., companies awaiting FDIC approval to establish ILCs include Berkshire Hathaway Inc., The Blue Cross and Blue Shield Association, automakers Ford Motor Co. and DaimlerChrysler AG, and Ceridian Corp.
Argonaut Group, PXRE Group
Argonaut Group Inc., a specialty underwriter, and PXRE Group Ltd., a Bermuda-based property reinsurer, have agreed to merge under which the combined entity will do business as Argo Group International Holdings Ltd.
Argo Group will become the Bermuda holding company for PXRE's existing insurance subsidiaries, Argonaut Group's U.S. operations, and a newly formed Bermuda reinsurer named Peleus Reinsurance Ltd. Argo Group will trade on The NASDAQ Stock Market under Argonaut Group Inc.'s existing ticker symbol AGII.
Mark E. Watson III, president and CEO of Argonaut Group Inc., will become the president and CEO of Argo Group. The board of directors for Argo Group will consist of the nine directors currently serving for Argonaut Group and four directors from PXRE Group, with a chairman elected from the resulting 13-member group.
PXRE's newly formed Class 3 Bermuda subsidiary, Peleus Reinsurance Ltd., will serve as the specialty reinsurance platform for Argo Group.The transaction is expected to close by Q3 of 2007.
From This Issue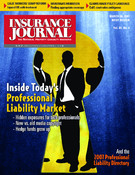 Professional Liability Directory; Transportation/Inland Marine/Cargo; Social Services/Non-Profits