East
Brown & Brown of Massachusetts, Yozell
Brown & Brown of Massachusetts LLC has acquired substantially all of the assets of Yozell.
Founded in 1960 by Peter Yozell, Yozell Associates strives to provide its customers with value in group employee and executive benefits products and services.
Following the transaction, Yozell Associates Principal John Yozell and his team will operate as a new stand-alone office within Brown & Brown's Retail segment and will continue doing business under the leadership of John Yozell and Marijane Norris Geary from the office located in Boston, Mass.
Brown & Brown Inc. is an insurance brokerage firm, providing risk management to individuals and businesses.
Brownell Insurance Center, NAIA
Brownell Insurance Center Inc., of Londonderry and Hampton, N.H., has joined agency aggregator NAIA.
This latest addition brings the total membership of NAIA to 77 agencies with 137 locations.
In addition to aggregation of agencies' volumes, NAIA provides management of books of business, perpetuation planning, mergers and acquisition consulting, agency best practices creation and other insurance agency related services to its members.
Brownell Insurance Center was started in April of 1986 by Marie Brownell, who was joined the following year by her husband Rick Brownell, Sr. Brownell Insurance Center has now become a family operation with the addition of their son, Rick Brownell Jr.
Together, they have grown the business from primarily a life insurance agency to an all-inclusive offering of financial services, personal and commercial property and casualty insurance, as well as, life, health and medicare insurance.
The agency shares many carriers in common with other NAIA members including Foremost, Hanover Insurance Group, MET Life, MMG, Safeco, Safety and Travelers Insurance.
H.W. Kaufman Group, RB Jones
H.W. Kaufman Group, a global network of companies, has expanded its subsidiary RB Jones as it partners with ProSight Specialty Insurance to become the exclusive administrator for its Marine Solutions and Excess Energy niches.
With this partnership, RB Jones Marine – a business unit exclusively focused on commercial marine and excess energy – will assume underwriting and servicing for the company's Marine Liability, Marine Excess, brown-water Hull and Excess Energy placements.
ProSight will continue to write marine lines of business as part of its differentiated all-lines offerings in other niches. This transition is effective on Sept. 15, 2019.
As part of the partnership, ProSight's former niche president of Marine and Energy, Mark Engel, has joined RB Jones Marine as managing director.
As managing director, Engel will oversee the operations and overall growth of RB Jones Marine. With nearly 20 years of experience through his roles with ProSight, AIG and Marsh, Engel has strategic planning and management skills as well as product development and placement experience. He and his team of associates will be based in the Greater New York area, reporting to Kaufman Davis.
Founded in 1905, RB Jones provides specialty risk coverage to brokers, agents and wholesalers. It is a member of H.W. Kaufman Group.
Founded in 2009 and headquartered in Morristown, N.J., ProSight Global Inc. is a property/casualty insurance company.
Starkweather & Shepley Insurance Brokerage, Revens-Gates Insurance
Starkweather & Shepley Insurance Brokerage Inc. has acquired Revens-Gates Insurance Inc. of North Kingstown, R.I.
Revens-Gates was founded in 1999 by Mark Revens and Peter Gates.
Established in 1879, S&S is an independent agency in Rhode Island. The firm provides commercial and personal insurance, health and employee benefits, surety bonding and risk management services. These services are provided nationally and internationally, through its partnership with Assurex Global.
Midwest
McNeil & Co., Bonding & Insurance Specialists Agency
McNeil & Co. as acquired Bonding & Insurance Specialists Agency Inc., an Orland Park, Illinois-based firm providing insurance products in the environmental and restoration industries.
As part of the agreement, BISA has become a program of McNeil, which is headquartered in Cortland, N.Y., and provides specialized risk assessment and insurance products and services. BISA will remain in its Orland Park location.
Over the years, McNeil and BISA have sold their respective products through some of the same network of agents, which has created strong synergies between the two companies and provides confidence in a strong cultural match.
BISA, an environmental program administrator with over 30 years of experience, specializes in asbestos abatement and water restoration contractors insurance.
Established in 1989, McNeil & Co. is owned by Bermuda-based Arch Capital Group Ltd.
Arthur J. Gallagher, BonusDrive
Arthur J. Gallagher & Co. has acquired The EHE Group LLC, dba BonusDrive, which has offices in Austin, Texas, and Auburn Hills, Michigan.
BonusDrive offers a national automobile voluntary benefit program to channel partners such as employers, associations and insurance companies for their employees, members and policyholders.
Consumers receive cash bonuses for purchasing or leasing qualifying new vehicles from participating auto manufacturers.
Jim Evans, Tim Easterwood and their associates at BonusDrive will continue to operate from their current locations under the direction of John Neumaier, head of Gallagher's Northeast region employee benefits consulting and brokerage operations.
Arthur J. Gallagher & Co., a global insurance brokerage, risk management and consulting services firm, is headquartered in Rolling Meadows, Illinois.
South Central
Spire Risk Management, Employee Benefits Services
Spire Risk Management, a full-service insurance consulting firm specializing in employee benefits, property/casualty and retirement planning, in San Antonio, Texas, closed on its first acquisition of Employee Benefits Services Inc. on Nov. 1
EBS was founded in 1986 by Art and Billie Villemain.
The company provides employee benefit consulting, brokerage, and administration to privately held companies in the San Antonio area.
The Villemain's son, Pete Villemain, has served as president of EBS since 2004 and will continue to serve as president of Employee Benefits for SRM.
SRM founder LP Buddy Morris started his insurance career in 1998 when he founded Summit Insurance Group. In 2008, he sold Summit to Arthur J. Gallagher & Co., where he served as area president.
Gulf States Holdings, Coastal American Holdings
Lafayette, Louisiana-based Gulf States Holdings Inc. has acquired Coastal American Holdings Inc. and its subsidiary Coastal American Insurance Co. Coastal American's home office is located in Gulfport, Miss.
Gulf States Holdings Inc.'s primary subsidiary is Gulf States Insurance Co., a rapidly growing Louisiana homeowner company.
Management of Gulf States, led by industry veteran H. Marcus Carter, Jr., has assumed the management responsibilities at Coastal American.
The underwriting has already been transitioned to Gulf States systems from a former third party administrator.
Coastal American was formed following result of Hurricane Katrina to address the lack of availability of homeowners insurance on the Mississippi Gulf Coast.
Southeast
AccuRisk Solutions, M-D Underwriting
AccuRisk Solutions LLC has completed its acquisition of M-D Underwriting Services Inc., a Franklin, Tenn.-based medical stop loss MGU.
AccuRisk CEO Dan Boisvert said the company will add MDU President and Cathy Guenther and her team to AccuRisk. He said MDU will provide additional underwriting and claim handling experience and capacity to its organization.
AccuRisk Solutions LLC is a managing general underwriter that partners with insurance carriers and healthcare groups to provide a comprehensive array of healthcare and employee benefit options.
Liberty Company Brokers, Resurgens
The Liberty Company Insurance Brokers has announced a new affiliate relationship with Resurgens Risk Management of Atlanta, Ga.
Established in 1999 by Willie Burks, RRM is a full-service brokerage and consulting firm specializing in property/casualty and benefits for the public sector space.
The Liberty Company Insurance Brokers provides entrepreneurial producers and agency owners a platform to create equity value.
Liberty is an independently owned, full-service broker with offices throughout the country.
West
XPT Group, Sierra Specialty
XPT Group LLC has acquired Sierra Specialty in Fresno, Calif.
Sierra Specialty will continue to operate under its brand name.
Sierra Specialty was founded in 2005 by Kathy Schroeder and Mark Schroeder. It specializes in a variety of products including agribusiness, property/casualty brokerage, general authority underwriting and transportation and garage.
XPT is a specialty insurance distribution company.
United Valley, JPL Insurance Services, Levoy & Associates
United Valley Insurance Services Inc. has added two new members, JPL Insurance Services of San Diego, and Levoy & Associates Insurance Agency Inc. of Roseville. Both are in California.
JPL Insurance Services serves clients in California, Arizona and Nevada. JPL writes multiple classes of business with a focus on construction, childcare and apartment buildings.
Levoy & Associates serves clients throughout California. The agency has a focus on workers' compensation in the construction industry and is looking forward to adding multi-peril coverage to their existing client base.
United Valley is a membership network of over 85 independently owned and operated insurance agencies with more than 110 locations throughout California and Arizona.
Was this article valuable?
Here are more articles you may enjoy.
From This Issue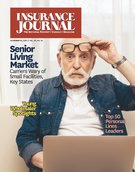 Top Personal Lines Retail Agencies; Young Wholesale Brokers; Markets: Assisted Living / Long Term Care; Special Supplement: The Florida Issue