East
NFP, Team Scotti
Insurance broker NFP has acquired LFG Inc., which does business as Team Scotti. The transaction closed effective Dec. 1.
Team Scotti, based in Pittsburgh, Penn., and founded in 1987, is a national insurance broker offering insurance and employee benefit programs to Major League Baseball and Minor League Baseball (MiLB) and their affiliates.
The firm plays a risk management role for MLB, including, but not limited to securing high-limit disability insurance for key players, written on behalf of teams, as well as servicing their group health benefit needs.
Team Scotti Founder John A. Scotti will join NFP as a managing director, reporting to Henry Lombardi, executive vice president and head of NFP Property & Casualty.
NFP and its subsidiaries aim to meet the holistic risk management needs of many North American professional sports leagues including the NBA, NFL, NHL, WNBA and the ATP Tour, as well as other professional and amateur sports leagues, teams, organizations, athletes and events. The Team Scotti acquisition adds retail brokerage expertise with respect to MLB and MiLB.
---
Midwest
USI Insurance Services, Associated Benefits & Risk Consulting
USI Insurance Services, headquartered in Valhalla, N.Y., has completed its acquisition of Associated Benefits & Risk Consulting from Associated Banc-Corp., based in Green Bay, Wisc.
ABRC is a multi-line insurance agency and Midwest-based consulting firm with 400 employees, providing employee benefits, retirement plans, compliance, business insurance, risk management and individual insurance solutions.
USI is a global insurance brokerage and consulting firms in the world, delivering property/casualty, employee benefits, personal risk, program and retirement solutions to large risk management clients, middle market companies, smaller firms and individuals.
World Insurance Associates, Pinnacle Insurance Group of Indiana
World Insurance Associates LLC has acquired Pinnacle Insurance Group of Indiana.
Since 1942, Pinnacle Insurance Group of Indiana has been a trusted insurance and risk management advisor to commercial and personal insurance clients throughout the country.
World Insurance Associates LLC is headquartered in Tinton Falls, N.J., and is a nationally ranked, full-service insurance brokerage.
---
South Central
Hilltop Holdings, National Lloyds, Align Financial Holdings
Dallas-based Hilltop Holdings Inc. completed of the sale of Hilltop's wholly owned Texas-based subsidiary, National Lloyds Corp., to Align Financial Holdings LLC on June 30.
The transaction, which was first announced in January, closed following the receipt of required regulatory approvals and the satisfaction of other customary closing conditions.
Gross proceeds (before transaction expenses) at closing to Hilltop from the transaction were approximately $154.1 million, subject to post-closing adjustments.
Dallas-based National Lloyds is a specialty property insurer primarily serving owners of lower value homes and mobile homes. The company writes premiums through two subsidiaries, National Lloyds Insurance Co. and American Summit Insurance Co. (Carriers), and also has wholly owned agency and services businesses, including Nalico General Agency (Agencies).
As part of its purchase of National Lloyds, Align concurrently sold the Carriers to ReAlign Insurance Holdings LLC (ReAlign) in an all-cash transaction.
ReAlign is an insurance holding company formed by ReAlign Capital Strategies LLC and other private investors.
Headquartered in San Diego, Calif., Align Financial Holdings was founded in 2003.
HUB International Limited, Gus Bates Insurance & Investments
Chicago-based global insurance brokerage, HUB International Limited, has acquired the assets of GBC Benefits Ltd., d/b/a Gus Bates Insurance & Investments, located in Fort Worth, Texas.
Gus Bates I&I provides a comprehensive range of services, including retirement plan services, employee benefits, property/casualty and personal lines insurance.
Gus Bates I&I CEO Gus Bates and President Matt Morris will join Hub.
---
Southeast
Relation Insurance, Summers Thompson Lowry
Relation Insurance Services, a privately owned insurance brokerage that offers property and casualty, risk management, employee benefits, and TPA-consulting services through its family of brands across the United States, has acquired Summers Thompson Lowry Inc., a privately owned insurance brokerage based in Raleigh, N.C.
Summers Thompson Lowry will retain the Summers name and operate as Summers Insurance Group, a Relation company. Larry Summers will remain with the company as the head of the Raleigh office.
Founded in 2000 by Larry Summers, Summers offers property and casualty products for commercial and personal clients and has established itself within the Raleigh, Durham and Chapel Hill regions. The acquisition expands Relation's commercial risk management resources to the greater Raleigh area and further enhances Summers' nationwide capabilities.
According to Joe Tatum, CEO of Relation, the acquisition will strengthen its P&C offerings in North Carolina.
Relation was formed in 2007 and is a nationwide independent insurance agency. Relation is a privately held corporation owned by Aquiline Capital Partners, a private equity firm based in New York and London investing in businesses globally across financial services and technology.
Insurity, Epic-Premier of Florida
Insurity, Inc., a provider of cloud-based core systems and data analytics for insurers, brokers, and MGAs, has completed the acquisition of Florida-based Epic-Premier Insurance Solutions, Inc.
Epic-Premier offers software products for a client base of MGAs, program managers, and wholesale brokers.
EPIC-Premier's technology, designed for MGAs, will be combined with Insurity's digital platform and cloud services to assist business operations across policy lifecycles, increase the automation of both standard and specialty insurance lines, and improve the speed and agility of client requirements.
The product can also be leveraged by carriers and brokers who currently manage MGA networks or who wish to create MGA networks to broaden their market reach.
The acquisition was completed on June 22, 2020.
Renaissance Alliance Insurance Services
Renaissance Alliance Insurance Services, a membership alliance for independent insurance agencies, has added six independent insurance agencies to its Florida network.
The new members include:
AFG Insurance (American Fidelity Group) of Spring Hill, Fla. an independent agency offering a full suite of personal and commercial solutions in two offices on the Gulf coast.
Atlantic Insurance Partners of Stuart, Fla., established in 1993, a full-service, independent insurance agency offering both personal and commercial insurance.
Bluehill Insurance of Fort Lauderdale, Fla., an independent insurance agency that provides commercial, business, and private client coverages to various industries.
Dunham Insurance Services of Fort Lauderdale, Fla., founded in 1997, an independent insurance agency serving personal and commercial clients in Florida and throughout the US.
Kretschmer Insurance Agency Inc. of Fort Pierce, Fla., offering personal and commercial insurance in Port St. Lucie, Indian River County, Martin County and Okeechobee County, Fla.
Optisure Risk Partners, Pembroke Pines, Fla., specializing in a total workers' compensation solution, hospitality insurance, risk management, and coverage for private clients and high net worth individuals.
Renaissance Alliance is a membership alliance for independent agencies specialized in property and casualty insurance.
Propel Insurance, HealthCare Services Insurance Partners
Propel Insurance, a retail insurance agency and a portfolio company of Flexpoint Ford, has acquired HealthCare Services (HCS), a risk management and insurance consulting firm based in Knoxville, Tenn., that specializes in serving senior care organizations.
The combined agency will generate in excess of $120 million of annual revenue in 2020 and will have seven offices across the U.S.
Propel's acquisition of HCS will expand Propel's existing senior living practice. Propel and HCS will consolidate their expertise to clients manage risk across the country.
Kirkland & Ellis LLP acted as legal counsel to Propel and Flexpoint Ford in connection with the transaction. Reagan Consulting acted as financial advisor to HCS and Morris Manning & Martin, LLP acted as legal counsel in connection with the transaction.
Propel Insurance is a nationwide privately-owned insurance agency.
Flexpoint Ford is a private equity investment firm.
Sunstar Insurance Group, BBH Capital Partners
Sunstar Insurance Group LLC has completed a majority recapitalization with BBH Capital Partners, the private equity strategy of Brown Brothers Harriman & Co. As part of the transaction, Sunstar management and key employees will remain significant shareholders alongside BBHCP.
Sunstar has grown to become one of the largest independent insurance brokers in the U.S. through organic growth and an active M&A strategy, having completed over 25 acquisitions within its core geography. The transaction with BBHCP provides Sunstar with additional capital to maintain its current momentum and accelerate long-term growth.
According to Casey Bowlin, Sunstar's chief executive officer, the investment by BBHCP will allow the company to create opportunities for its employees, customers and carrier partners and will further accelerate its organic and M&A growth strategies.
LNC Partners, the private equity firm that previously invested debt and equity capital in Sunstar in 2015, will remain a lender to Sunstar.
Sunstar is a regional insurance brokerage firm headquartered in Memphis, Tenn., focused on servicing the insurance needs of businesses and individuals in the Southeast and lower Midwest. Sunstar operates through 10 hub offices, with 18 branch offices in Arkansas, Kansas, Missouri and Tennessee.
Was this article valuable?
Here are more articles you may enjoy.
From This Issue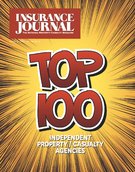 Top 100 P/C Agencies; Markets: Recreation & Leisure, Condos