National
Odyssey Partners, SIAA
Private equity firm Odyssey Investment Partners has joined with management of SIAA (Strategic Insurance Agency Alliance), the nation's largest alliance of independent insurance agencies, to acquire the company.
New Hampshire-headquartered SIAA says its model and operations will remain unchanged under the new ownership plan.
Jim Masiello, SIAA's chairman and founder, will retire after a successful career in the insurance industry as a "champion for independent insurance agents," according to the announcement.
CEO Matt Masiello will continue to lead the organization along with the rest of the SIAA management team.
SIAA was founded in 1995. It was created to serve larger retail insurance agencies and was modeled after SAN Group, a partnership formed in 1983 that focused on small agencies.
Insurance Journal ranks SIAA as the largest agency partnership.
At year-end 2020, SIAA reached $9.6 billion of total in-force premium, up from $8.9 billion at YE 2019. SIAA also signed 527 new member agencies last year, the second highest number in the history of the company.
Odyssey's portfolio of insurance firms also includes Tysers (formerly Integro), MontpelierRe and York Insurance Services.
Goldman Sachs served as financial advisor to SIAA on the sale while Odyssey was advised by Piper Sandler.
---
East
Hub International Limited, Finn & Stone
Global insurance brokerage Hub International Limited has acquired the assets of Finn & Stone Inc.
Finn & Stone Principals Chip and Jonathan Ams and the Finn & Stone team will join Hub New England.
Finn & Stone is a full-service independent insurance agency with locations in Manchester and Springfield, Vermont. It has been providing personal and business insurance solutions to the southern Vermont community for 60 years.
Headquartered in Chicago, Illinois, Hub International Limited is a full-service global insurance broker providing risk management, insurance, employee benefits, retirement and wealth management products and services. It aims to grow organically and through acquisitions to expand its geographic footprint and strengthen industry and product expertise.
The McGowan Companies, Couch Braunsdorf Insurance Group
The McGowan Companies, based in Fairview Park, Ohio, has acquired the assets of the wholesale division of Liberty Corner, New Jersey-headquartered Couch Braunsdorf Insurance Group Inc. CBIG's wholesale division will be re-branded under the McGowan brand.
CBIG's wholesale division specializes in writing lawyers professional liability. CBIG administers multiple, exclusive LPL programs through carriers rated "A" or better by A.M. Best.
After the transaction, the staff of CBIG's LPL programs will remain in place, led by Neil P. McGowan. All of CBIG's brokers will receive automatic, initial appointments with McGowan and its full range of products and capabilities. Coverage is available in all 50 states and Washington, D.C.
---
Midwest
Kemper Corp., American Access Casualty
Kemper Corp. has closed its previously announced acquisition of Downers Grove, Illinois-based American Access Casualty Co. and its related captive insurance agency, Newins Insurance Agency Holdings LLC, and its subsidiaries (collectively AAC).
AAC provides specialty private passenger auto insurance in Arizona, Illinois, Indiana, Nevada and Texas.
Pursuant to the terms of the acquisition agreement dated Nov. 22, 2020, the total cash transaction is valued at approximately $370 million. AAC's multi-channel distribution strategy, agency relationships and deep ties to the markets it serves — particularly Hispanic communities — have driven strong growth and consistent profitability, according to Kemper's November 2020 announcement.
Hub International, KC Insurance Group
Chicago-based Hub International Limited has acquired the assets of KC Insurance Group LLP in Overland Park, Kansas.
KC Insurance Group is an independent insurance agency serving the Kansas City area and specializing in personal lines insurance. The agency offers a wide variety of products including auto, home, renters, boat, motorcycle and umbrella insurance. Cory Schnabel, owner of KC Insurance Group, and the agency's team will join the Hub Mid-America region.
---
South Central
Relation Insurance, McGhee Insurance Northwest Arkansas
Relation Insurance Services Inc., based in Walnut Creek, California, has acquired the assets of The McKinney Group, dba McGhee Insurance Northwest Arkansas, in Rogers, Aarkansas. The acquisition represents Relation's entry into Arkansas.
McGhee serves personal and commercial line clients in the Northwest Arkansas area. McGhee, led by Brandi McKinney, will join Relation's Central Region.
Relation Insurance Services is an insurance brokerage that offers risk management and benefits consulting services through its family of brands across the U.S.
Keystone Agency Investors, Garrett Insurance Agency
Pennsylvania's Keystone Agency Investors (KAI) has partnered with Kerrville, Texas-based Garrett Insurance Agency to facilitate KAI's entry into that state.
Founded in 1918, Garrett Insurance Agency is an independent insurance agency offering a suite of personal, commercial, group health insurance, financial services and workers' compensation. The company's product suite includes coverage for farms and ranches, business owners, consultants, manufacturers, contractors, professionals and many others. The team also features an in-house subsidiary — Frantzen, Kaderli & Klier — to specifically handle agricultural business placement and benefits.
KAI is a strategic partnership between Keystone Insurers Group and Bain Capital Credit. Its partnership structure allows owners to monetize their most important asset while continuing to operate their agencies, leveraging growth through enhanced resources and support as they prepare for leadership succession.
Penwell Bowman + Curran LLC provided legal counsel to KAI on the transaction, and Reagan Consulting Inc. provided due diligence advisory.
---
Southeast
Alera Group, E3 Outsource
Alera Group, an employee benefits, financial services and risk management company, has acquired E3 Outsource, an employee benefits management and technology firm. The E3 Outsource acquisition provides enhanced employee benefits services to Alera Group clients in more than 100 locations throughout the country.
Headquartered in Lake Mary, Florida, and serving clients throughout the country, E3 Outsource offers an employee benefits helpline for clients and their employees.
According to Bernie Falco, president of E3 Outsource, joining Alera Group will allow the company to increase collaboration and resources for companies nationwide.
The E3 Outsource team will continue serving clients in their existing roles.
Alera Group has more than $500 million in annual revenue offering employee benefits, property/casualty, retirement services and wealth management services to clients across the U.S.
Sterling Seacrest Partners, Pritchard & Jerden
Sterling Seacrest Partners Inc. and Pritchard & Jerden will merge and operate as Sterling Seacrest Pritchard.
The newly merged firm will employ more than 300 insurance agents and service team members with eight offices in Atlanta, Birmingham, Columbus, Little Rock, Savannah and Tampa.
Sterling Seacrest Pritchard will offer clients a risk management and employee benefit program platform.
---
West
Marsh & McLennan Agency, PayneWest
Marsh & McLennan Agency LLC has acquired Missoula, Montana-based PayneWest Insurance.
PayneWest will operate as MMA's Northwest regional hub under PayneWest CEO Kyle Lingscheit. Lingscheit will report to MMA Chairman and CEO David Eslick. All of PayneWest's more than 700 employees will join MMA and continue to work from its 26 locations across the region.
PayneWest provides business insurance, surety, employee benefits and personal insurance services to companies and individuals across the Northwest through offices across Idaho, Montana, Oregon and Washington.
MMA is a subsidiary of Marsh established in 2008 to serve as a platform for the middle market. MMA offers commercial property/casualty, personal lines and employee benefits to midsize businesses and individuals across North America.
K2 Insurance Services, Loss Run Pro
K2 Insurance Services, based in San Diego, California, has invested in Loss Run Pro LLC (LRP), headquartered in Missoula, Montana.
LRP is a subscription software service that simplifies the loss run process by automatically generating and delivering loss run requests. LRP also provides tracking and other tools to improve this process. LRP's technology allows loss runs to be generated, signed and delivered electronically via a computer or mobile device.
Brenden Corr is the senior director of Business Development for LRP and will work to expand and build relationships with carriers and brokers, both nationally and internationally.
MS Amlin, International Transportation Marine Agency
MS Amlin is acquiring managing general agency International Transportation and Marine Office and its associated subsidiaries.
Completion of the transaction is subject to customary closing conditions, including the receipt of regulatory approvals.
The primary subsidiary International Transportation & Marine Inc. provides marine and other specialty lines of insurance.
ITMA specializes in light commercial trucking and offers coverage for auto physical damage and motor truck cargo products unbundled from the auto liability exposure. ITMA partners with appointed producers at both the wholesale and retail levels.
Don Kaitz will retain his role as chairman of Arizona headquartered ITMA, and the business will continue to be led by Eric Kaitz, CEO, and remain a stand-alone MGA business.
Was this article valuable?
Here are more articles you may enjoy.
From This Issue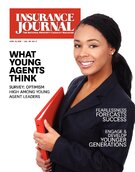 The Young Agents Issue w/ Survey Results; Markets: Directors & Officers Liability