One of our responsibilities as insurance professionals is to lead change. Yes, however reluctant, everyone in the independent agent insurance business is 100% responsible for creating change. If we sit back waiting for others to make change happen, we're not likely to get the change we need.
You and I can and must take a proactive approach to business relationships. We need to create positive change for our customers, our firms, the industry at large, and (last but not least) ourselves. But how? Here are two ways to start.
1. Recognize your comfort zone and challenge it.
Colleagues and friends say that I'm outgoing, and that's easy to see. Many who know me think that it'd be easy for me to reach out and communicate in any setting.
That is not the case. For example, when my colleagues asked me to conduct Facebook Live videos for a "Member Tip Monday" feature, my first thought was: "No. Not me. Someone else is better at it."
You must be the change you want to see in the world.
But I realized that even though I was uncomfortable with the idea of the video, I was very passionate about the subject matter. So I had to step out of my comfort zone and face a camera from my home office every Monday.
It wasn't so bad, and I am still alive! (Check out the video archive on the NetVU Facebook page sometime.)
Somewhere along the way, I learned that speaking in public, regardless of the setting, is a natural fear for most everyone — me included. Making cold calls, dealing with conflicts, small talk, resolving open questions — those are among the tasks I struggle with. A tiptoe outside my comfort zone in these cases typically results in success, however.
I've also learned other behaviors that weren't easy to come by. But more importantly, I learned that when I give energy, I get more in return. (That sounds more like me, right?)
2. Tap into user groups as prime change catalysts.
Any insurance firm that uses a management system or technology solution has a built-in ally for proactive change: its user group.
In fact, just about any software you use that's been updated in the last five years will have users like you who are solving or have solved the very problems you want to solve. And vice versa. Technology providers partner with viable, valuable user groups not only to offer support, but also to collaborate on improvements.
Sometimes it takes looking to find the group, and it takes courage to stick your toe in the water and then eventually wade in. But you must get out there and share.
As technology users, regardless of our skill or experience level, we need a way to connect informally with business partners from all points in our industry. In some cases, a user actually can get in touch with technology product managers, developers, and peer experts through tools such as online communities and user group social media sites. Communication is key to all relationships, and user groups are the connection to communicate.
I'm always amazed by the selflessness of users who log on, often 24/7, to help others in the industry. More experienced users are so giving of their time and expertise in an effort to help newer users and give them tips, tricks, and workflow suggestions to more fully utilize their technology investments.
Actively engaging in your user group will not only help your own firm, but will allow you to help lead the industry change process. The collective voice of active users resonates when product managers and developers review and prioritize product enhancements. Collaborating as a group, users can lead improvements to the products they use every day to make them more valuable.
Check with your management system vendor to connect with your user group today.
Was this article valuable?
Here are more articles you may enjoy.
From This Issue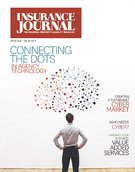 Agency Technology; Markets: Cyber & Security