A Pulaski County Circuit Court jury awarded a Little Rock, Ark., insurance agent more than $2.55 million dollars in alleged unpaid salary and commissions in a case involving Aon Risk Services of Arkansas Inc. and Aon Risk Services of Illinois Inc., subsidiaries of Aon Corporation of America.
In a news release, the Little Rock law firm of Welch and Kitchens LLC said John M. Meadors, filed suit in 2002 against the firms alleging that he had been underpaid or shorted when he brought in major accounts to both Aon companies. The largest allegedly concerned employee benefits packages for more than 20,000 employees of Dillard Stores. Meadors brokered the five-year Dillard's contract through Aon's Combined Insurance subsidiary, the release said.
The bulk of the award, $2.5 million, was against Aon Risk Services of Arkansas relating to unpaid salary and transactions brokered by Meadors for Dillards, J.B. Hunt and Pace Industries, the law firm said. The jury also awarded $44,500 to Meadors in his suit against Aon Risk Services of Illinois.
An Aon spokesman contacted by Insurance Journal said the company had no comment to make about the case.
Meadors, a native of Morrilton, has been in the insurance business in Little Rock since 1964, beginning his career with Fireman's Fund. He is now vice president of Rebsamen Insurance, based in Little Rock.
From This Issue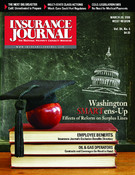 Washington SMARTens-Up