$100 million
Chicago-based Aon Corp. announced that it has taken further steps to exit its property and casualty business by signing a letter of intent for the sale of its Construction Program Group (CPG). Aon also announced that it will strengthen specialty property and casualty reserves by approximately $100 million, the company release said. Aon has signed a letter of intent to sell CPG, a managing general underwriter, to Old Republic Insurance Company for cash consideration of $85 million. The transaction also includes the transfer of approximately $300 million of unearned premium and claim reserves currently on the books of Virginia Surety Company Inc., which relate to business previously written through CPG.
21 years
Michigan celebrated the 21st anniversary of the H.E.A.T. (Help Eliminate Auto Thefts) program with its annual award program this week. According to the official release, since its inception in 1985, H.E.A.T., with its partners in law enforcement and the insurance industry, has helped lead to the recovery of over 3,500 vehicles and more than $43 million in stolen property, a $2 million increase from last year. Over the past 21 years, H.E.A.T. has awarded over $2.9 million in rewards and has helped in the arrest of nearly 3,000 auto theft criminals.
150,000
Insurance Commissioner Jim Poolman recently gave formal approval for Blue Cross Blue Shield of North Dakota to refund some of its premium surplus to policyholders. The Fargo-based health insurer had more than $220 million in reserves at the end of last year. Poolman earlier had suggested the refunds, saying the insurer's reserves were above target levels. Attorney General Wayne Stenehjem in September issued an opinion saying it would be legal for the Blues to refund some of the surplus. Blue Cross Blue Shield has said it hopes to make the refunds by year's end. Refunds will benefit 150,000 policyholders.
10
Certain states experience more collisions with deer than others, with the Midwest holding five of the ten spots in the Top Ten list. According to State Farm's annual claims statistics, the states with the highest number of accidents involving deer between July 1, 2005, and June 30, 2006, were: Pennsylvania, Michigan, Illi-nois, Ohio, Georgia, Virginia, Minnesota, Texas, Indiana, and South Carolina. The top 10 ranked states account for 51percent of all deer claims filed by State Farm policyholders.
$420,000
Niles, Ill., Mayor Nicholas Blase pleaded not guilty recently to a federal indictment accusing him of pocketing more than $420,000 in a decades-long kickback scheme. Blase is charged with coercing businesses in his northwest Chicago suburb to buy insurance from an agency operated by his friend. That friend, in return, would then pay Blase kickbacks, prosecutors allege. Blase, who also is an attorney, has been mayor of Niles for 45 years. He is accused of using the kickbacks to pay salaries.
Source: Associated Press
From This Issue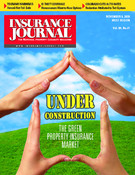 UNDER Construction: The Green Property Insurance Market