At Wits End
"We are at our wits end … We are totally unprotected."
Mayor Rick Eberlin, mayor of Grafton, Ill., situated on the Mississippi River 40 miles north of St. Louis, said as the river's rising waters were closing in on the town's city hall. Flooding along that part of the Mississippi was expected to reach the second- or third-highest levels in early May. Grafton has no flood walls or levees.
Storage Tank Complaint
"Until something occurs or a complaint comes in, those things aren't looked at."
Harris County Fire Marshal Laurie Christensen, speaking at a Texas Senate hearing, on a proposed bill that would strengthen state oversight of above-ground tanks that hold petroleum products and hazardous chemicals. The bill was filed after a leak at a Deer Park tank farm owned by Intercontinental Terminals Company sparked a fire in March that spread to almost a dozen more holding drums.
Wildfire Accountability
"This legal action is an important and essential step toward accountability and recovery."
Los Angeles County Supervisor Sheila Kuehl lauded a decision by her and fellow board members to sue Southern California Edison and parent company Edison International to recover more than $100 million in costs and damages from a wind-driven wildfire that may have been sparked by one of the utility's wires.
Was this article valuable?
Here are more articles you may enjoy.
From This Issue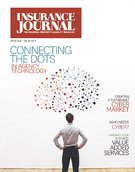 Agency Technology; Markets: Cyber & Security