HPE Gender Suit
"HPE is committed to ensuring we compensate our employees fairly, and we take any concerns raised by our employees seriously and investigate them fully. We dispute these claims and will vigorously make our case in court."
— A spokesman for Hewlett Packard Enterprise Co. commented on a tentative ruling by a California state court judge in early July that a class-action gender pay lawsuit can proceed even though the women who sued have yet to meet a legal requirement to identify specific instances of men making more for the same work.
War on Cannabis
"The war on cannabis has destroyed families, filled prisons with nonviolent offenders, and disproportionately disrupted black and brown communities. … Law enforcement across the nation has spent billions of dollars to enforce the criminalization of cannabis, yet its consumption remains widespread."
— Illinois Gov. J.B. Pritzker, who in late May signed a bill legalizing recreational marijuana in his state. The Illinois legislation provides for offering legal remedies and economic benefits to minorities whose lives critics say were damaged by a wayward war on drugs.
Safety Failures
"Our investigation revealed a long chain of failures which resulted in this fatal event, including deferring much needed process improvements; improvements that could have prevented the toxic release."
— Interim Executive Dr. Kristen Kulinowski, interim executive director of the U.S. Chemical Safety Board, comments on the findings of the board's investigation into the release of methyl mercaptan at the DuPont Plant in La Porte, Texas, that killed four workers. The CSB said it identified weaknesses in the DuPont La Porte safety management system.
Was this article valuable?
Here are more articles you may enjoy.
From This Issue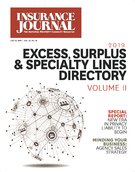 Data & Analytics; Excess, Surplus & Specialty Markets Directory, Volume II; Special Supplement: The Florida Issue