In California, the industry is in the midst of implementing some far-reaching workers' compensation reform. The new laws should increase competition and improve pricing in coming years. But to get there, the industry must first put all the pieces of the new program in place.
Right now, most insurance companies are attempting the highest-profile part of the change–implementing a medical provider network to serve injured workers statewide. Only a handful of companies currently have state approval to offer an MPN. And most networks are under the intense gaze of reform opponents, intent on finding flaws.
Agents–vital members of the insurance delivery team–are largely excluded from all this work, legally speaking. Most reform requirements apply to insurance companies, business owners and employees. Some agents may view this as an opportunity to ignore the change. For others, though, the lack of legal responsibilities frees them to choose a customer service approach that improves commercial customer relationships and, perhaps, even turns up a few cross-sell opportunities.
But how do agents go about formulating a plan? In a jungle of reform guidelines, how can they carve out an approach that is effective, without being overly time-consuming?
We believe agents should consider five basic steps for navigating the change:
Understand the basics of each company's approach. For all the detailed regulation, there is significant leeway in how each insurance company complies with the new law, especially when implementing an MPN. Things to look into:
Will a carrier implement an MPN at all? It's not mandatory, but without one, an insurer relinquishes control of an employee's medical treatment after 30 days. That control is key to future expense savings and rate reductions.
When will each carrier's new medical MPN be available? The state began reviewing applications last fall. Some carriers received approval for Jan. 1 MPN launches, while others work through the regulatory process.
What will be the network's breadth of service, geographic reach and ratio of physicians to employees? MPNs are like the standard health plans most business owners offer their employees. The same scrutiny given to health benefits should be applied to insurers' MPNs.
How are carriers transferring current workers' comp cases from the old system into the MPN? If it feels too complicated, it probably is. The state is working hard to make sure no extraordinary demands are placed on injured workers.
Build a value proposition around price, product and MPN process. Agents and small-business owners have three elements to consider when selecting workers' comp coverage: price, product, and the company's new MPN, which serves injured workers.
Be prepared to debunk myths around poor quality of care. An MPN works similarly to most employees' regular health insurance–but the doctors in these networks specialize in workplace injuries. Under the new system, employees can go to the doctor of their choice if they alert their insurance company during a specified enrollment period–and the selected doctor agrees to take workers' comp cases. Physicians are continually added to the networks. If injured workers don't like their first choice, they can change care providers.
Be patient about rate relief. Most insurers are confident that, with proper implementation of the new law, their prices will go down over the next couple years. The Workers Compensation Insurance Ratings Bureau reported rates have dropped 16 percent since 2003. But it will take two to three years for the efficiencies of the new system to have their intended effect.
Develop a localized, personal approach for assisting customers. Just about all the information insurers are sharing with business owners and employees is statewide mass communication. The more agents can interpret the changes for customers in a personal way, the better their customers will do at transitioning into the new workers' comp program.
Workers' comp advice and opinions are hitting commercial customers from every angle. Agents can serve as a voice of reason. A thoughtful strategy that is thorough, but not overly time-consuming, can open up opportunities for agents to solidify customer relationships and grow revenue over the long term.
Was this article valuable?
Here are more articles you may enjoy.
From This Issue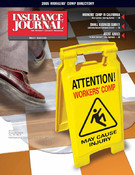 Workers' Comp Directory