Is the valuation revolution coming to farm insurance?
For several years now, residential and commercial property insurance specialists have been employing new automated systems to refine their calculations of the value of insured structures. The old process of calculating replacement cost by square footage only is being replaced by systems that account for unique structural features, local building markets, and other factors.
It has become commonplace to hear of companies revaluing their entire residential and commercial books of business. For the most part, revaluation has meant more premium and improved levels of insurance to value. Changes in valuation have been slow to come to farm lines, however, because of unique features of the farm insurance market:
The number of farms in the U.S. decreased for more than 80 years (before leveling off in the past decade), while the number of residences and commercial structures has steadily increased.
The remaining farms are generally distinct, with more diverse exposures than most homes and businesses.
Premium volume for farm insurance, a little more than $2 billion per year, is well below that for residential and commercial property, which approach $60 billion combined.
Because of these factors, automation in farm lines has generally lagged behind that in personal or commercial lines.
Unique structures
Yet another factor complicates efforts to automate farm valuation. While the construction of residential and commercial increasingly involves common, "cookie cutter" techniques and components, farms are often collections of unique structures. On farms, it is common to encounter old buildings that have been expanded or altered multiple times, along with specialized new production facilities.
"The greatest challenges to effective farm valuation are the many different types of buildings a farm can have, and the many different types of fixtures in those buildings," said Todd Rissel, chairman and chief executive officer of e2Value Inc., Stamford, Conn., developer of a new Web-based farm and ranch valuation application.
"A residential risk typically has one simple dwelling, and commercial risks have a few buildings at most," said Mark Zook, vice president of underwriting for Mennonite Mutual Insurance Company, Orrville, Ohio.
"Farms, especially large farms, can have many structures," Zook said. "Farm structures can vary greatly in condition for the same risks. The main barn is continuously added on to, so you can have a truly unique shape and construction."
ACV settlement
"Because farm structures are often unique, many of them are valued for their actual cash value rather than replacement cost," said Sherry Taylor, director of farm lines for SECURA Insurance, Appleton, Wis.
"Depreciation then becomes a major factor to consider," she said. "It is a fluid variable not always understood by customers."
For example, Taylor said, "a farmer often has a number of outbuildings, all in varying stages of repair or obsolescence. Most farmers maintain their dwellings and functional buildings, but may not invest in an unused building so it can qualify for replacement cost coverage."
Also, according to Taylor, many farmers have buildings they would not want to replace in the event of a total loss, so they only want coverage for debris removal.
"But, the insurance company must account for partial losses," she noted.
New system
SECURA is currently using the Farm and Ranch Estimator valuation system developed by Rissel's firm, e2value Inc. Mennonite Mutual plans to have it available to agents through the company's Web site in January 2006.
"This will enable our agents to calculate farm buildings with a standardization and ease that has not existed," Zook said. "With Mennonite providing the tools for agents to calculate values correctly, we should see a continuous increase in farm property values."
Insurers using Farmowners or Farm Properties programs from AAIS also now have access to the Farm and Ranch Estimator. AAIS now offers them a link from their AAISdirect home page into the application.
To create the application, e2Value had to acquire databases of construction and installation information on a wide range of structures and fixtures, according to Rissel.
The service features replacement cost data for major components of construction-walls, roofs, plumbing, and HVAC, as well as agricultural structures and fixtures, such as corn cribs, silos, slurry tanks, generators, scales, and specialized equipment for livestock.
The service allows users to include more than one structure in a valuation, and incorporates use of e2Value's "Homestead" residential valuation program for valuing a farm residence on the insured premises.
Users have the option to calculate the replacement cost or actual cash value of a structure, and both methods can be used to value different structures on the same farm or ranch. The ACV option establishes a value for a structure based on its age, condition, type of roof, type of exterior, and current use.
"Given the amount and variety of farm property, it is important to have information available on property for every type of farm," Rissel said.
Systematic
According to Rissel, farm insurers have believed for years that the intuitive approach to farm valuation was not producing a sufficient level of insurance to value. "They knew they had an issue, but they didn't have a method," he said. "There hasn't been an easy way to do standardized farm valuation."
Establishing a systematic method for valuing farm property is critical today, he said, because the cost of replacing all types of structures–rural, urban, or suburban–is rising steadily.
"There's been a clear uptick in the cost of rebuilding anything," Rissel said. "In the past five years, the level of household and commercial construction has been accelerating.
"Commercial, residential, and farm construction are all drawing from limited contracting capacity," Rissel added. E2Value (www.e2value.com) provides valuation services for residential and commercial properties in addition to farm and ranch.
Joseph S. Harrington is communications manager for the American Association of Insurance Services, a national advisory organization that develops policy forms and rating information used by more than 600 property/casualty insurers. He can be reached at joeh@AAISonline.com.
Was this article valuable?
Here are more articles you may enjoy.
From This Issue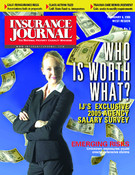 2006 Agency Salary Survey