Majority of advertising appearing in Spanish language media
---
Automobile insurers are hungering for the Hispanic market's premium dollars, according to a new report by Hispanic Market Weekly that analyzed marketing and media trends being used by the industry.
Automobile insurers spent $78.7 million in the first three quarters of 2007 to attract U.S. Hispanic consumers, compared to $73.2 million invested by auto insurance companies in Spanish-language media tracked by Nielsen Monitor-Plus during all of 2006. In 2005, $12.4 million was spent by insurance companies on that segment, according to the report.
The majority of the ad dollars targeting the Hispanic market went to Spanish-language media. Television was the primary beneficiary of the increased commitment to attracting Latino consumers. Through September 2007, auto insurers bought roughly $58.4 million in airtime on the four Spanish language broadcast television networks. Insurers allocated an additional $13.9 million to spot television. Hispanic cable television networks received $2.9 million.
Spot radio advertisements received $2.6 million of the ad dollars in 2007, Spanish language magazines received $1.4 million, and Spanish language newspapers received $21,400.
The report noted that magazines are seeing more activity, while radio stations are seeing less. In 2005, $652,500 went to periodicals. A year later, the dollars increased to $1.3 million. Spanish language AM and FM radio stations received $4 million in ad dollars in 2005, and that figure dropped to $3.6 million in 2006.
Direct Writers in the Lead
Direct writers are the biggest spenders on advertising to attract the Hispanic market, according to the report. Allstate ranked first in expenditure of ad dollars with Hispanic media, followed by State Farm. Both continue to increase their budgets for Hispanic advertising.
Allstate's advertising campaign objective for the Latino market is to make the company "more approachable" in the eyes of Hispanic consumers, noted Laurence Klinger, chief creative officer at Làpiz. Làpiz is Allstate's U.S. Hispanic agency of record for creative duties in September 2007.
Through September 2007, Allstate earmarked more than $32 million for Hispanic television networks, with another $1.7 million going toward spot television. About $1.3 million went to cable television, and the remaining $1.1 million went to national Spanish language magazines.
State Farm Insurance was the second biggest spender in spending advertising dollars in the Hispanic market, the report indicated. Through the first three quarters of 2007, State Farm invested $20 million in ads appearing on Hispanic television networks. Roughly $2 million went to spot television. Cable networks received $1.7 million, and magazines took in $232,700 in ad dollars.
The report noted all media except radio have seen significant increases in ad dollars since 2005.
Among other insurance companies recognized in the report, American International Group's AIG and 21st Century Insurance placed $6.3 million of its ad budget with Hispanic television networks. Zurich Financial Services Group, which operates Farmers Insurance, spent $53,000 in advertising with the four Hispanic television networks. Nationwide Insurance and its sister brands Allied and Titian Insurance contributed nearly $1.5 million in ad dollars to the U.S. Hispanic market. GEICO Direct spent $435,100 at local Hispanic radio stations. And Infinity Insurance, which is active in California, Georgia and South Carolina, spent $4 million on spot television ads, and $375,000 on radio ads.
Clearly, the automobile insurance industry perceives the Hispanic market as an opportunity on the horizon, HMW said.
"We're not just doing 15- and 30-second television or radio, we want to touch consumers," the report indicated, quoting Mark Gibson, associate vice president of advertising at State Farm, from a "Special Report on Hispanic Advertising Agencies."
Where the Spending Is
Following is a quick look at the total investment in Hispanic media spent by auto insurance companies during the first half of 2007, compared to the same period in 2006, according to Hispanic Market Weekly.
| Company | 2006 (in millions) | Jan.-Sept. 2007 (in millions) |
| --- | --- | --- |
| Allstate | $37.8 | $36.1 |
| State Farm | $14.9 | $25.4 |
| AIG/21st Century | $6.9 | $6.6 |
| Infinity Insurance | $3.3 | $4.4 |
| Farmers Insurance | $5.6 | $2.1 |
| Nationwide/Allied | $1.4 | $1.1 |
| Progressive | $1.4 | $1.0 |
| Titan Insurance | $0.8 | $0.5 |
| GEICO Direct | $0.3 | $0.5 |
| American Family | $0.3 | $0 |
| TOTAL | $73.18 | $78.69 |
---
Was this article valuable?
Here are more articles you may enjoy.
From This Issue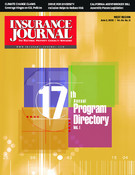 Program Directory, Vol. I