While natural weather hazard activity could be largely categorized as "normal" last year, regional exceptions occurred, notably: wildfires in California and hurricane activity in Texas and the Southeast.
That's according to a recent analysis by the global property information and analytics firm CoreLogic. The company's annual Natural Hazard Risk Summary and Analysis reviews hazard activity in the U.S. and around the world such as flooding, earthquake, wildfire, wind, hail, tornado and hurricanes.
As residents of coastal and southeast Texas can attest, Hurricane Harvey, which made landfall as Category 4 storm in Aransas County in late August 2017, was one of the most significant weather events in the state's history. It was not "normal" in any sense of the word. It also was the first major hurricane to make landfall on the mid-Texas coast since Hurricane Celia in 1970 and the first Category 4 storm to hit Texas since Hurricane Carla in 1961, according to the National Weather Service (NWS).
While the highest windspeed in the U.S. last year — 131 mph — was recorded at Port Aransas, Texas, during Hurricane Harvey, the storm's biggest impact was from the immense amount of rain it produced over a number of days.
Harvey was exceptional in both the amount of rainfall it produced and its large geographic span, CoreLogic noted.
"Nearly 500,000 homes experienced some type of impact, and of those 500,000 homes, an estimated 90,000 incurred severe damage from flooding. Almost 200,000 more homes suffered extensive flooding that impaired immediate occupancy, and an additional 200,000 suffered short-term impaired functionality. The Houston and Beaumont metropolitan areas of Texas were most severely impacted," the report states.
Rainfall accumulations from Harvey set records across Texas and the U.S., with the Houston area, Southeast Texas and even Southwest Louisiana bearing the brunt of Harvey's flooding. According to the National Hurricane Center (NHC), Harvey produced 60.58 inches of rain near Nederland, Texas, and 60.54 inches near Groves, Texas.
Both amounts set national records.
The previous record rainfall amount from a tropical storm in the U.S. was 52 inches from Hurricane Hiki, which was recorded at Kanalohuluhulu Ranger Station, Hawaii, in August 1950. In the mainland U.S., the previous record was 48 inches from Tropical Storm Amelia, recorded in Medina, Texas, in 1978.
Louisiana experienced relatively minor damage from Harvey compared to Texas. Still, around 2,000 homes flooded in Calcasieu, Beauregard, and Cameron Parishes, as did roads and rivers. Many of the flooded homes were located along the Sabine River, which serves as part of the border between Texas and Louisiana, the NHC reported.
Damage Amounts
Flood damage in Texas alone from Hurricane Harvey is estimated at $40 billion to $59 billion, according to CoreLogic. Residential damage resulting from Harvey's torrential rains is estimated at $25 billion to $37 billion and commercial damage estimates range between $15 billion to $22 billion.
Approximately 75 percent of the flood damage to residential properties from Hurricane Harvey was uninsured.
Combined property damage from flooding resulting from Hurricane Harvey and Hurricane Irma, which hit the coast of Florida in early September, is estimated at $69 billion to $105 billion.
In addition to flooding, CoreLogic's report shows that Harvey's winds and storm surges caused an estimated $1 billion to $2 billion in combined insured residential and commercial property losses.
Located in the vicinity of Harvey's landfall, the neighboring towns of Rockport (population around 10,000) and Fulton (population around 1,600) suffered significant damage from the storm "as they took a direct hit from Harvey's eyewall," the NWS reported in its summary of Hurricane Harvey.
"Many structures, residences, and business in and near the Rockport and Fulton area were damaged or destroyed, as roofs were blown off and walls collapsed. Electricity and water services were lost. The city's infrastructure was crippled," the NWS reported.
A recent Associated Press report noted that about 460 businesses out of 1,300 were back in operation as of mid-January, according to officials with the Rockport-Fulton Chamber of Commerce.
Despite the damage sustained in those two communities, CoreLogic pointed out in its report that the average insured property loss in Texas from a Category 4 hurricane is around $20 billion, significantly higher than the estimated $1 billion to $2 billion in insured property loss caused by Harvey.
The lower estimated wind damage amounts attributed to Hurricane Harvey result from the fact that it made landfall in a relatively lightly populated area and that it quickly downgraded into a tropical storm with lower windspeeds.
Still, preliminary reports showed that Harvey spawned 57 tornadoes, about half of which developed south of and around the Houston metropolitan area, according to the NHC. "Over 150 tornado warnings were issued during the event. Tornadoes were also noted in Louisiana, Mississippi, Alabama and Tennessee as the cyclone moved near or over those states. Fortunately, almost all of the tornadoes were relatively weak, of EF-0 and EF-1 intensity," the NHC report states.
At least 68 deaths were attributed directly to Harvey, all in Texas. More than half of that number — 36 — occurred in Harris County, according to the NHC.
Overall last year, hurricane activity in the Atlantic was higher than average with 17 named storms, 10 hurricanes and six major hurricanes, which are identified as Category 3 or greater, CoreLogic reported.
From This Issue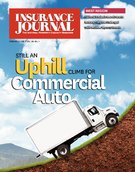 2017 Agency Mergers & Acquisitions Report; Markets: Nonprofits, Garage & Repair